When France beat Iceland easily in a 5-2 match-up last July 3, it sealed the semifinal match-ups for this year's UEFA European Championship. After these next two matches will be the final match of the tournament, with the winning team receiving the trophy.
The teams that managed to get through the semifinals are Portugal, Wales, Germany, and France. All of these teams have managed to prove themselves throughout the entire tournament. With their previous performance in mind, it will be a tough fight.
The two semifinal matches are scheduled July 6 and July 7, giving the four teams a chance to rest and recuperate. It also gives sportsbooks a chance to post the odds on the upcoming matches. Major online bookmakers like Sportsbet.io, VitalBet, and Nitrogen Sports have already put up odds for the upcoming matches, giving sports bettors a chance to place their bets. Here is a brief overview on the potential matchups, as well as the odds being placed on them.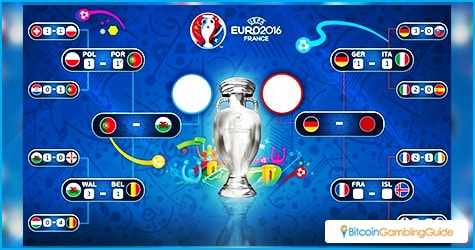 Portugal versus Wales
Wales and Portugal have a rather interesting match. For one, this is a fight between a confirmed powerhouse and a newcomer. Portugal has had a stunning international career, especially with the help of their superstar Ronaldo. He has not been performing up to snuff, though, and a lot of analysts are saying that he could be doing better.
Wales has its own star player in Gareth Bale but he does not have the same star power as Ronaldo when it comes to bookmakers. Right now, the sportsbooks are favoring Portugal to win. The odds are placed at around 2.19, while Wales' odds are hovering around 3.0 to 4.0.
One of the factors that put Wales on the back foot is the fact that they lost two strong players due to suspensions. Aaron Ramsey and Ben Davies are going to be suspended for the semifinal game because, according to UEFA rules, any player who is booked twice in the first five games of the tournament will receive a five match-ban. This removes two key players in the team when it needs to be in top form.
What makes this match more exciting is the fact that Bale and Ronaldo are teammates in Real Madrid. Seeing these two great players lead their team to a podium finish for UEFA Euro 2016 will be worth it.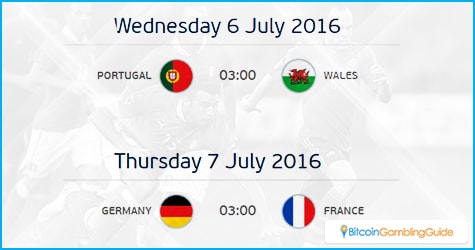 France versus Germany
As for the match between France and Germany, it feels more like the main event. These are two strong teams and a lot of sportsbooks agree that knowing who the ultimate winner will be is going to be difficult. This is why the odds for both teams are rather close to each other. The sportsbooks favor France to win, but Germany's odds are only a few decimal points away. Both teams' performances in preceding matches were based on skilled teamwork and it will be interesting to see them play.
With the Euro 2016 semifinals soon to occur and the finals happening on July 10, the UEFA Euro 2016 is about to end. However, with four superb teams taking the field, the closing matches will be an exciting spectacle to see.