After the sideshow caused by Russian and English fans doing violence, the UEFA European Championship has managed to recover and put on a good show of matches.
The initial round is about to finish and the tournament is shifting to a higher gear as the knockout phase begins this week. This round will feature matches from the top two teams from each of the six groups, along with the four best-placed third teams.
Right now, the top two of Groups A and B have managed to qualify. These are France and Switzerland for Group A and Wales and England for Group B. Group E has Italy currently being the only qualifier. There will be 11 more teams to be determined for the knockout phase of the tournament, and the upcoming matches will determine them.
Upcoming matches
The matches for Group C, D, E, and F will happen from June 22 to 23. These will finally determine who will be the top two representatives for each group. For Group C, there will be a match between Ukraine and Poland on June 22. Another Group C match will be happening simultaneously with Northern Ireland and Germany.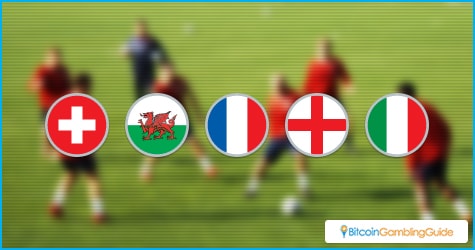 Group D will also have its matches on the same day with the Group C teams. They will be between Croatia and Spain, along with Czech Republic and Turkey. Interestingly enough, Spain can already advance to the next round, but a match is still needed to determine who is the second and third in the group.
Group E and F will have their matches on June 23. Group E will have Italy playing against Ireland and Sweden against Belgium. Group F's matches are Hungary versus Portugal and Iceland against Austria.
These eight matches are going to be the last chance for some of these teams to progress to the next round, so it will be interesting to see how they will perform. The betting will only become hotter as dedicated fans will be putting their money where their mouth is and support their teams.
Crowd favorites
There are definite favorites among the still competing teams. Bitcoin sports betting sites like SportsBet.io, Nitrogen Sports, and VitalBet have already posted odds on the possible outcomes of the upcoming matches.
For the Poland and Ukraine match, sportsbooks generally agree that Poland is the better choice at 1.97 odds, with the Ukraine being an underdog at 4.57. The situation is even worse with Germany and Northern Ireland. Northern Ireland's odds are in the double digits against the German's 1.30.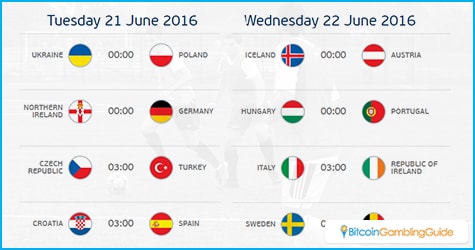 Spain and Croatia are also unbalanced with the Spanish powerhouse rated at 1.98 to Croatia's 5.11. It is less lopsided with Turkey and Czech Republic, though, with the odds favoring the Czech at 2.37, while Turkey is at 3.19. Italy and Ireland are similarly balanced at 2.4 and 3.19, respectively. Belgium is favored to win in its match with Sweden by a wide margin, and Portugal is another clear favorite in its match. Finally, Iceland and Austria are pretty even.
After these matches, the wagering will get even more heated as the championships enter the home stretch. It will be a definite treat for soccer fans as the best teams in Europe go up against each other.