At the height of the rise of Bitcoin sports betting comes the possibility to wager bitcoins on fantasy football as Fantasy Bit League developed a platform designed to function on the digital currency during the Disrupt SF 2014 Hackathon.
The masterminds behind Fantasy Bit League bank on their mission to empower everyone across the globe to play their American football dream team using what they call the 'international currency' and in their local language.
With the $70 billion market of fantasy football, Ash of Fantasy Bit League believes Bitcoin, with its potential to be adopted by various industries, will serve as a catalyst that will help players accelerate the market and bring it to the next level, stating: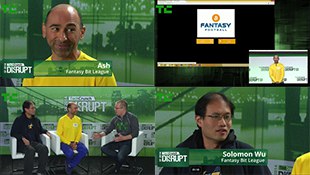 "We never go to where the puck is. We always go where the puck is going, and all indications show that Bitcoin is gonna be the international currency that everyone is gonna use. We see Bitcoin being used everywhere: Target and Walmart, and we just see it expanding so rapidly.
Being recognized as a game of skill rather than of chance, fantasy football is legal in all 50 states in the US, giving more reasons that it has a future with the digital currency.
The creation of such Bitcoin betting platform is promising since Bitcoin sports betting is already being seen by online sports bettors as an alternative method to enjoy the action and thrill of watching sports and winning bets.
The advantages of using Bitcoin as wagers are too difficult to ignore, and these function as the driving force behind the faster adoption of the digital currency in the online sports betting scene.
With Fantasy Bit League being a product of the TechCrunch-sponsored hackathon event, Bitcoin followers of fantasy football may likely hope for its interface and system to improve more and be able to provide seamless Bitcoin football betting services that are open to all fans and interested individuals.