Online poker is a favorite of many online gamblers. For a lot of people, they like entering into a table and just playing. It is the equivalent of Friday night poker with the boys. Some people, however, need a bit more of a challenge. Pick-up games can be rewarding in their own right, but if a player wants the really big jackpots, they will want to join a more competitive environment.
For online poker, this means joining tournaments. Fortunately, a lot of online poker sites offer tournaments for their customers. This allows players to test their skills and to potentially earn a lot of money. For those looking at how poker sites set up their tournaments, Betcoin.ag and Americas Cardroom provide two excellent examples of how it can be done properly.
Americas Cardroom
Americas Cardroom has several tournaments regularly running on its website. Different tournaments meet differing desires of players. For example, there are those who want the traditional feel of offline poker, so there are daily tournaments that follow the usual rules, but this would be too limiting.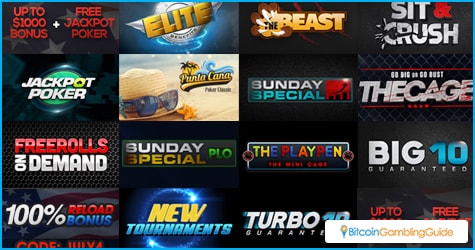 Americas Cardroom has managed to start up some very interesting tournaments. There is the Cage tournament. This particular tournament format should be attractive to cutthroat players. It involves a five-hour tourney with multiple tables. The tournament closes at the end of five hours and players get to cash in their chips for cash.
All players start with a $1,000 worth of chips and as long as they have the money, they can keep participating in the games. The big difference is as the hours pass by, the blinds and minimum bets increase. This ensures a very competitive environment and a potentially large payout for players.
Another tournament with the same level of risk is Jackpot Poker. Three players buy into a Jackpot Poker tournament and are given 500 chips. The Jackpot Prize is randomly determined. This can range from two to 2,500 times the initial buy-in price, which is from $2 to $40. The tournament's winner will get the Jackpot. To make it fast, the blinds will increase every three minutes, ensuring that eventually players will be betting with all of their chips.
Betcoin Poker
Betcoin.ag has done its own twists on the traditional formula for poker tournaments. For example, the site has set up the first Bitcoin Sit & Crush tournament race. In this format, players join Sit & Go tournaments to earn points on the Sit & Crush leaderboard. The higher a player goes up the leaderboard, the higher the amount of Bitcoin they can earn. The Sit & Crush format allows players to enjoy tournament play, while also giving them an overall goal.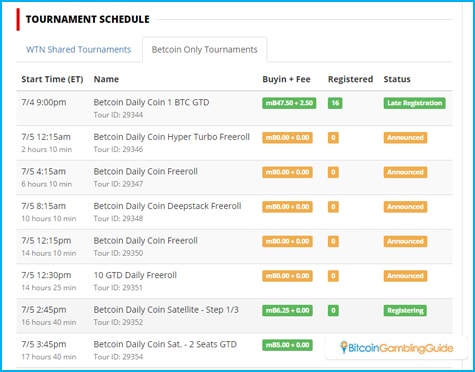 Other than this, Betcoin Poker also has a list of Betcoin-only tournaments. In fact, it features the Daily Double MTT Jackpot, which Bitcoin players can definitely make the most out of. On top of these are the other online poker tournaments from Winning Poker Network. Betcoin.ag began to offer shared WPN tournaments in 2014 and has since then provided Bitcoin poker enthusiasts with the ability to join the said tourneys using bitcoins.
Online poker promotions                                   
Online poker tournaments give challenge-hungry players what they need. Fortunately, online poker sites have become creative in making these tournaments both interesting and challenging. The online poker promotions on board Americas Cardroom seal the deal for many, especially when it comes to the previous events like the Million Dollar Sundays and the ongoing WSOP Main Event Package.
Meanwhile, Betcoin Poker offers the Daily Coin 1 BTC GTD and the 60%-100% Table Starter Rackeback. These are joined by the New Depositor Freeroll and the 1 BTC First Deposit Match Bonus, among other Bitcoin poker bonuses in store.