Hillary Clinton has been formally announced as the Democratic Party candidate. Currently, the Democratic Party Convention has Party stalwarts making speeches about why Hillary is the best possible candidate for the party. Add to that why she should be voted in as the President of the United States.
But the real highlight of the convention will be when it is time for her to take the stage and give out her acceptance speech. Interestingly enough, this presents people with a great chance at a bet. The big question now is: what exactly will Hillary say in her speech?
Prop bets on her speech
There are several betting options out there that are about Hillary's speech. Most of them are on specialist betting sites, but sportsbooks like Bovada often have a special section for political bets.
Before getting into content, one of the wagers on the speech is how long it will be. Hillary's husband Bill Clinton is well-known for his habit of extending his speeches' duration, with some of them breaking the hour mark. Bodog bets on Hillary's speech hint that many think she will be taking a page from his playbook. Currently, Bodog has the odds of the speech lasting beyond 48 minutes at a favorable -160, though the odds of the speech ending in 48 minutes are at a respectable +120.
As for the speech's content, Bovada is taking bets for who and what Hillary will be mentioning in her speech. It will be a sucker's bet on the two big names: Obama and Trump. Obama is the outgoing president and, say what you want about him, his presidency's influence will be felt for a long time.
Donald Trump, on the other hand, is Hillary's primary opponent and his buffoonish behavior will have to be called out. However, the Democrats seem to be going for a positive approach in their campaign, so analysts say an Obama mention will be more likely at -180 odds.
Additional topics that may come up in Hillary's speech are the following: Black Lives Matter (-300), the issue of "building a wall" (-150), and WikiLeaks (+160). Pressing issues like the Supreme Court and ISIS also have chances of being mentioned, with odds at -1000 and -400 respectively.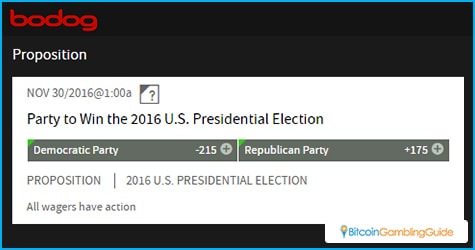 What comes after?
After Hillary's acceptance speech comes the hard part: the election campaign. This year's election is going to be quite vicious. The Republican campaign was left in chaos when Trump managed to snag the nomination with this loud attention-grabbing tactics, while the Democratic Party also suffered some acrimony when Bernie Sanders and Hillary Clinton faced off.
Right now, the odds favor the Democrats wining the White House at -200 odds. However, there are several months left before the November election and the political winds can shift at any time. This particular bet is not a completely sure thing and it will be interesting to see the results.