Bitcoin gamblers are always on the lookout for ways to grow their Bitcoin bankroll in 2017. However, hoping that a lucky roll will net a jackpot is not a sound financial strategy. For those who want an approach that will give an extra boost in collecting bitcoins from Bitcoin gambling, there are several ways they should check out.
Setup a Bitcoin faucet
It sounds counterintuitive, but setting up a Bitcoin faucet can be a good way to get a solid revenue stream. Bitcoin users should be familiar with the idea. A faucet is a site that gives away free Bitcoin to visitors on regular intervals to visitors. This is usually a small amount, but it is a great way to introduce bitcoins to beginners—just as what Primedice does for new players or with low bankroll.
Giving away bitcoins for free may not seem like a good idea, but there is a potential for profit there. This is because faucet sites often have a lot of advertisements on them. If a visitor clicks on any of them, the owner will probably already turning a profit on the visit. Potential investors can build from scratch or buy an already ready faucet. A good faucet will regularly produce more money than it releases, ensuring a small but steady stream of profit.
Lend some Bitcoin
One of the oldest professions in the world is being a moneylender. It is not surprising then that it has continued to this day. This is thanks to the idea behind: a person has money, he lends it out, and he gets it back with interest. Lending money online can actually be more profitable, thanks to automation and less dependence on staff.
For those with extra bitcoins, lending them out is a good way to build up their stash. They do not even have to do it themselves. There are several online lending sites that are looking for investors. All that a person needs to do is sign up for them and they can be assured of regular profits coming in. An investor can expect around 10 to 14 percent return on their original investment.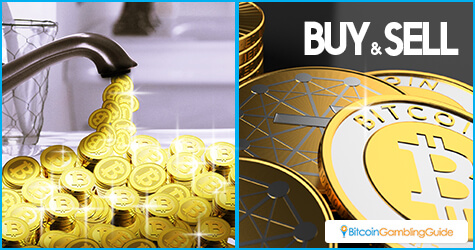 Bitcoin buying and selling
Another surefire way to earn more bitcoins is by buying and selling them. Bitcoin prices fluctuate on a regular basis. It goes up and goes down. For those who have access to exchanges, they can buy bitcoins during the low periods. They then keep them and wait for the price to rise. Some hold on for micro fluctuation of just a few cents. This is usually in minutes or hours. However, others hold on to Bitcoin for months. This can be extremely profitable since Bitcoin prices can go up by hundreds of dollars. It may take some time, but buying and selling Bitcoin can result in a large stash at the end of the day.
Cloud mining
One of the least risky ways to gain more Bitcoin is by mining. The main problem is that it takes up a lot of resources. This is where cloud mining comes in. People buy time on cloud servers to use them for mining. There is still the risk of fraud, but if restricted to the more trusted mining pools, then a person may be able to get some solid profit from their investment.