Formula 1 race revs up with the Malaysia Grand Prix this Sunday. The current standings are in a rather surprising state. Only two races ago, Lewis Hamilton was on top with a sizable lead over his rival. However, after two successive third place positions, he is now on the back foot.
Hamilton is currently behind Rosberg by eight points and Malaysia—the third race this month—is the first of the six races left in the Championship. This means it is on him to catch up, while Rosberg just maintains the lead. Though it is unlikely, six races could be enough for an expert driver like Hamilton to catch up. His attempt to retake the lead could start this Sunday by winning the Formula 1 Petronas Malaysian Grand Prix.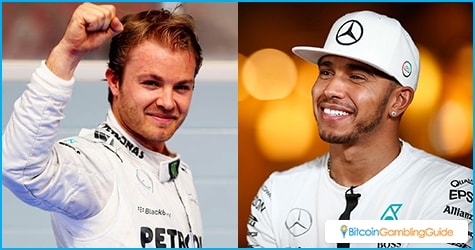 Potential winners
Right now, sportsbooks are offering some very good odds for Lewis Hamilton coming out on top. He is set at 2.0 odds to win despite the recent setbacks. His poor start in Belgium caused him to lose on that, while Singapore proved a challenge for the veteran racer.
Nico Rosberg stands second, though, at 2.30 odds. He has managed to prove himself in recent races, but oddsmakers are still putting their support behind Hamilton. Meanwhile, Daniel Ricciardo takes up a distant third position at 10.25 odds.
F1 fans should place their bets now in anticipation of Sunday's exciting race.
Sepang International Circuit
The track that Lewis Hamilton and the other racers will be competing in is the pride of Malaysia. A product of the 1990s push for Malaysian modernization, it is the culmination of Pres. Mahathir Mohamad's bid for international attention. The Sepang International Circuit started construction in 1997 and was ready for a debut race by 1999.
On technical grounds, the Sepang track is a technical wonder. Herman Tilke designed it and the noted designer has subsequently worked on F1 racing circuits in Shanghai, Istanbul, and more. The main circuit is 5.543 kilometers long. The main features of the track are its sweeping corners and wide straights, which allow for overtaking. Another interesting feature of the track is a 927-meter straight lane which is separated from the pit by just one very tight hairpin.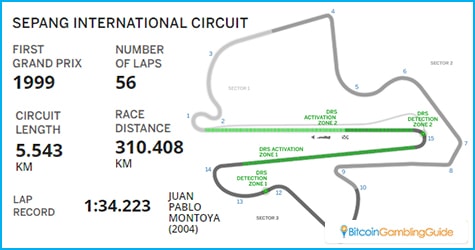 The Sepang circuit can also be raced using various configurations besides its full run. The north circuit can be raced as a full track and consists of the first half of the main circuit. The course has an extra track after turn six to allow for a run of 2.71 kilometers. The other half of the Sepang track is the south circuit. Similar to the north circuit it provides a similar experience and run for 2.61 kilometers.
The track has seen some great races. John McDonald and Sebastian Vettel have won the race a record four times, while Michael Schumacher and Fernando Alonso have won it three times. Last year, Lewis Hamilton managed to reach second place in the track, but he'll need a first place one to stay in the running for world champion this year.