Another race for the F1 world championship approaches and this time it is in Asia. This weekend, the Singapore Grand Prix will be going on and a lot of people will be paying attention. This is mostly because of the rivalry between the two current top dogs: Lewis Hamilton and Nico Rosberg.
A few races ago, people were sure that Hamilton had this year's trophy clinched. But with several solid wins under his belt, Rosberg has managed to close the gap between them to a measly two points. All that Rosberg needs to edge over in points is to beat Hamilton's time in this race.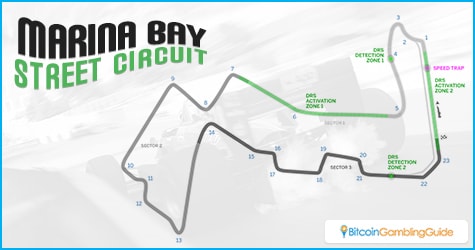 The track
The Singapore Grand Prix is a rather interesting track for many racers since it first hosted a Grand Prix back in 2008. First of all, it is not technically a track. The race uses public roads around the Marina Bay area, after having been modified for the express purpose of racing. This has led to the Grand Prix becoming a city-wide event that has the entire city in a festive mood.
Second, the race is set at night. The F1 Championships only have Bahrain and Abu Dhabi as the other night races, making this a challenge for most drivers used to daylight conditions. Fortunately, race managers have done their best to maximize safety by setting up spotlights to duplicate daylight.
A lot of race teams feel the challenge of the setting. It can be jarring since the last race was in sunny Monza, but many have risen to the challenge. Paul Hembery of Pirelli has this to say about the track:
"Singapore is probably the most spectacular circuit that we visit all season… This is one of the most unpredictable races of the year – it's the only track with a 100 percent safety car record – so all the complex variables inevitably throw up opportunities for teams to do something creative with strategy. In terms of competition, it looks set to be one of the closest races we will see all year, where tyre management will make a big difference."
The odds
With the race in a few days, the sportsbooks have already posted odds for the winners. SportsBet.io still has Lewis Hamilton as the overwhelming favorite at 2.75 odds. Nico Rosberg, on the other hand, is down at 4.00. The difference is big and a lot of people are confident that Hamilton will eke out a win.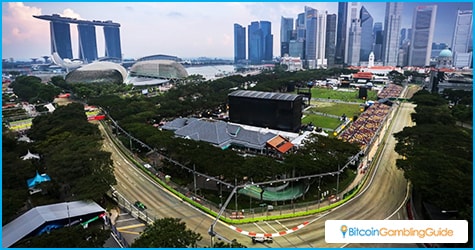 However, Rosberg is quite aware of the importance of the race and may potentially go for the top spot. All he needs to do is beat Hamilton to get the points to take the lead in the Championships. There are others in the running for winning the race, though. Daniel Ricciardo is a hair behind Rosberg at 4.25, while Max Verstappen is at 7.00.
With the Championship on the line, this will be an interesting race to watch.