Expensive hardware, noise pollution, and high electric bills are just some of the common setbacks experienced when mining Bitcoin and other cryptocurrencies. While it proved to be a lucrative activity over the years, Bitcoin mining today seems to be better off left for the experienced miners.
The seemingly exclusivity of cryptocurrency mining for the advanced miners clearly isolates the beginners who also aim to financially benefit from this trade. This is the aspect the new cloud mining service addresses, and it is rather showing a promising future for a new offering.
HashFlare.io is the latest mining service on the market. It provides cloud mining functionalities while also ensuring a mining experience stripped off the common problems related to such activities. Also, it operates under the supervision of the HashCoins team, which only highlights its expertise and experience in this field.
According to its website:
"Our goal is to make mining accessible to all users regardless of age, location, investment, technical nouse or experience. We want to give our customers an opportunity to try out cryptocurrency mining and earn Bitcoin as a reward."
HashFlare provides simple but smart cloud mining services
Guaranteed to be suitable for experienced users and starters, HashFlare possesses features and qualities instrumental in creating a user-friendlier environment for all types of miners.
Interested users may begin their mining career with HashFlare for as low as $4.45 per 10 GH/s when they choose to indulge in SHA-256 cloud mining. This covers automatic payout in BTC and round-the-clock technical support.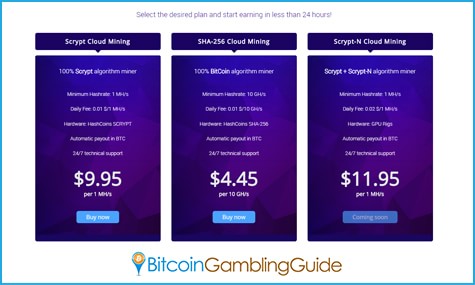 There are other cloud mining options available through this platform, and they all feature reasonable prices for every miner to benefit from.
Another area HashFlare prides itself on is its clear, straightforward, and easy-to-understand interface that is complete with various mining settings and functions. Complex control panels normally cause beginners to lose interest in continuing the mining activities, but this new cloud mining services provider highlights simplicity and user-friendliness in line with its mission to empower everyone to engage in cryptocurrency mining, especially Bitcoin cloud mining.
More opportunities to experience premium cryptocurrency mining
Other than these two, users are also assured of convenient monitoring of their daily progress, as well as unparalleled security all throughout their stay.
Moreover, there are other features that magnify the reasons cryptominers should seriously consider availing themselves of the beneficial services offered by HashFlare.
Some of them include the quick and immediate withdrawal of the earnings, paired with the ability to allocate hashrate to selected pools for enhanced profitability and the availability of advanced webmaster tools.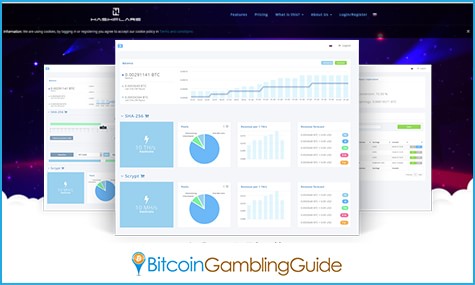 HashFlare opens services even to Bitcoin gambling players
HashFlare aims to make Bitcoin mining simple and convenient in order to encourage as many individuals to try it out, which is similar to one of the core missions of the Bitcoin casino and gambling sites.
Designed to make online betting more fun, rewarding, and accessible, Bitcoin gambling caters to different types of players, who may also increase their profits by engaging in the innovative cloud mining services offered by the newest arm of HashCoins.
Gambling enthusiasts playing in popular sites like Betcoin Casino, Dicecoin, and BTC-Casino.io to name a few can explore the myriad opportunities to collect endless rewards by buying reasonably priced hashrates to begin their sessions in Bitcoin cloud mining.