Bitcoin gambling platforms need all the publicity and marketing they can have to push their products and offerings closer to their target market. Tapping the services of the WIKI websites is one of the best tools to achieve this goal.
This is the reason the online gambling community and the casino operators took it as a positive sign for Bitcoin and the gaming sector that the Wikimedia Foundation became the newest supporter of the digital currency.
Recently, the American non-profit and charitable organization that is popularly known for hosting Wikipedia and other wikis announced its acceptance of the digital currency as one of the means the public can send in their donations.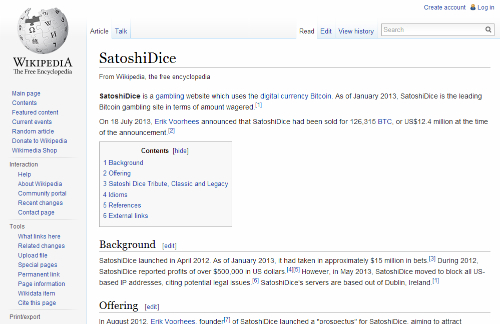 The Wikimedia Foundation finally added Bitcoin to its 13 different payment methods and acquired the payment processing services provided by Coinbase, an American-based company that offers its Bitcoin wallet and functions as an online exchange. This payment processor will be responsible for converting Bitcoin donations to US dollars.
This move served as the foundation's answer to the growing demand from its supporters who have constantly requested for the acceptance of Bitcoin. With the issuance of the US Internal Revenue Service guidance regarding the virtual currency, the decision to cater for the plea became possible.
Wikimedia's role in sharing information with billions of people who have access to the Internet is too strong to ignore; thus, various brands, businesses, and products from numerous markets take full advantage of this ability—to reach everyone in the world as easily and quickly as possible.
Bitcoin, which is yet to take over the mainstream market, largely benefits from this, so much that even the Bitcoin gambling industry, which is doing well on its own, also views this opportunity to be of paramount significance.
After all, the Wikimedia Foundation, through its Internet encyclopedia, is able to inform the general public of the features of playing with Bitcoin like provably fair and anonymous betting.
Moreover, it functions as a venue that can spark the competition among Bitcoin gambling brands, serving as the catalyst for each of the platforms to improve their gaming products and services to ensure a top-notch level of online gambling.