Since its inception in 2009, Bitcoin has had volatility as one of its biggest challenges. And many, in fact, consider it the most aggressive stumbling block to its mass adoption.
To give you a picture of how things have been unfolding, between October 2013 and the same month this year, the Bitcoin price has moved between just over $1,200 and slightly below the $300 mark. And the movement has been far from linear. Indeed, predicting the price for even the next few days is very difficult for anyone.
The not-so-stable price has been attributed to factors such as the rapidly changing legal status of the currency around the globe, its low levels of usage and, of course, news like when Mt Gox, the largest Bitcoin exchange up to March 2014, went down.
While the majority of Bitcoin enthusiasts have learned to live with this aspect and even continue vouching for the cryptocurrency, the same cannot be said of those on its fringes.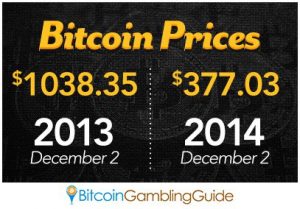 It has taken a number of solutions to tame the volatility
Many, especially the low-income learners understandably are not ready to risk some value of their money to a highly volatile exchange market.
On the other hand, large merchants that accept Bitcoin as payment for goods and services they offer have solutions that help them get around this problem.  Most have involved payment processors where their customers choose to use Bitcoin as the mode of payment.
The processor automatically converts the amount received into dollars or another currency of the merchant's choice. And this ensures that they do not lose the pricing value. Of course, more solutions are coming forth. In the offing are Bitcoin wallets that users can set to convert the digital coins received into fiat currency automatically.
It must be mentioned, however, that there are those who have found the high volatility a source of speculative business.
Is there a link between Bitcoin gambling and Bitcoin volatility?
But how does the price volatility affect gamblers using the currency to place bets on various Bitcoin gambling sites?
The straightforward answer is that there is an effect. This is because gamblers do buy bitcoins using fiat money. Also, many find it necessary to exchange their Bitcoin wins for real money in dollar, pound or yen.
In that regard, when the price is high, players will pay more for Bitcoin; the opposite is true too. Therefore, the cost of gambling may be viewed as high at one time than in another.
However, there is a caveat to that line of thinking.
There is a significant number of players who rarely have to exchange between bitcoins for fiat currency and vice versa. Some use earnings received in bitcoins to purchase products online or offline while others choose to plough back their wins for more gambling in a Bitcoin casino or even in a Bitcoin sports betting site.
That probably makes these bettors the least worried about the change in the price of the most successful digital currency. Having said that, it is still critical to weigh your options and find a mechanism for insulating yourself from wild Bitcoin price swings.