Placing bets with credit and debit cards has worked well for online gambling since its early days. However, this has not been without wiring challenges.
Aside from regulations that restrict banks from facilitating online gambling in many jurisdictions, such as the Unlawful Internet Gambling Enforcement Act of 2006 (UIGEA) in the US, the slow implementation of the 'finality of payment' is another.
'Finality of payment' refers to that instant when money finally reaches the account of the merchant, in this case an online casino.
The long time it takes to effect it facilitates what is known in money transfer services as a chargeback. This is the ability of the sender to cancel the payment by lodging a dispute with the card issuer to the effect that they either do not recognize the transaction or part of the contract was not performed.
A chargeback is not a bad thing but is often abused
The chargeback is not a bad thing in itself because it is there to protect consumers from scams and fraudulent transactions that are rampant online. For instance, when someone's details are stolen and used for betting purposes without his knowledge he has it as his first line of defense.
Even though a chargeback is often justified, there are cases where it is outright default or fraud.
And this is how it goes in such cases;
John places a bet using his credit card with full of anticipation that he is going to win. However, as luck will have it, he loses the money. And on realizing this, he contacts his bank or card issuer and claims that the transaction is unauthorized and therefore should not be effected.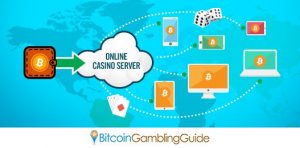 Online casinos are disadvantaged in disputes with credit card holders.
And since there are no physical goods delivered in the transaction, the casino will find it hard to proof that they indeed performed their end of the contract as per John's order.
Typically, the bank will side with him and reverse the transaction.
Many online gambling sites often have to deal with the above scenario.
Even after employing best practices and technologies available, chargeback remains a huge cost item in their financial records. This is in addition to making them look fraudulent in eyes of the card issuers and therefore putting them at the risk of being blacklisted.
Bitcoin offers an instant finality of payment
With Bitcoin and altcoins the storyline is different.
When a gambler uses crypto coins to place a bet in a Bitcoin casino, the finality of payment is almost immediate. He sends the money and it reaches the wallet of the Bitcoin gambling platform, often under ten minutes. That means there is little room for him or her to cancel the transfer from the respective Bitcoin wallet.
In fact, this nature of crypto transactions makes Bitcoin and altcoins the best answer to the challenges of finality of payment that are experienced with fiat money transmission  in online gambling. This is in addition to coming at almost no cost of remittance.