On October 29, 2013, Robocoin, one of the largest manufacturers of Bitcoin ATMs, got the first unit running in a coffee shop in downtown Vancouver, Canada. At that time, this looked like a technology that was going to remain on the fringes of the crypto coin revolution for at least some years. However, from the midway of 2014, it seems to be already taking a place at the center of the Bitcoin ecosystem.
The Bitcoin ATM map is steadily getting crowded. It is apparent that, if the momentum is maintained, it is going take about five years for every city and major town around the globe have at least one running.
Of course, the thought of finally having a tool that takes the cryptocurrency from the techy circles to the ordinary man and woman on the street brings a lot of excitement to Bitcoin enthusiasts.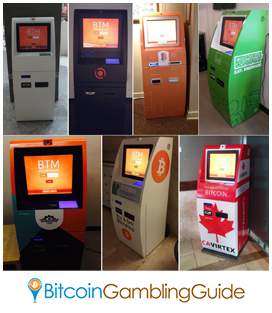 But how is this development going to impact on Bitcoin gambling?
This is a question that the online betting community has to stop for a minute and find an answer or answers to, even when it seems not to be that critical at the current setting.
Of course, everyone would prefer one straightforward answer.  However, that seems not to be the case. Unfortunately, it is a question that attracts a mixed bag of answers.
Let's begin with the brighter side of things.
More Bitcoin ATMs means more people in a position to change their Dollar, Yen, Pound or any other currency for Bitcoins. They can use their acquired coins as a store of their value or use them to finalize transactions that accept the cryptocurrency.
That also means that anyone intending to place a bet at a Bitcoin gambling site has only to drive to the Bitcoin ATM down the street and acquire a couple of crypto coin units.
Likewise, if he wins the bet he can again go to the same ATM and get his win in fiat currency.
That sounds like the Bitcoin ATM will have a cumulative effect of more people making stops at Bitcoin gambling sites.
However, the other side of the coin is the fact that Bitcoin ATMs are going to direct more attention from authorities to online bitcoin gambling.
How is that possible you ask?
The best answer for that question comes from the fact that Robocoin has just made it mandatory for anyone operating any of its ATMs to enable anti-privacy software and hardware. This is part of its effort to comply with the Know Your Customer (KYC) requirement by the Financial Crimes Enforcement Network (FinCEN)
In short, ATM companies are being coerced into conforming to laws that make it almost impossible to carry out anonymous transactions. That means that before you buy or sell Bitcoins at an ATM, you have to leave self-exposing data.  In most cases, you have to provide identification documents.
Moreover, periodically, the operators have to fail returns with authorities.
Such regulatory requirements are keen on not letting the raw Bitcoin transaction to exist, a situation that is not ideal for an individual with an interest in keeping his identity private when doing gambling related activities online.
In that regard, the growth of Bitcoin ATM will have little positive impact on the Bitcoin.