NOTE: This is the first part of the news series titled 'In Focus: The 3 Giant Bitcoin Software Providers.'
Bitcoin gambling was merely a speck of dust in the iGaming industry. But how this blockchain-based online entertainment transformed in less than five years never fails to impress.
Hundreds of online casinos, sportsbooks, poker rooms, and other betting websites have joined this trend. Although some have already seized operations, new brands continue to enter the market, with the select names leading the cause to forward an alternative to online real-money gambling.
Thriving may be the word that best describes this cryptocurrency-run industry today, and it would not have reached this level had it not been for the constantly upgrading technology developed by the premium software providers that cater to Bitcoin gambling—CoinGaming.io, SoftSwiss, and UltraPlay.
Each with their distinct qualities and features, these platforms fuel the iGaming evolution and create an arena where Bitcoin, altcoins, and fiat currencies are the main highlight. With their significant contributions, these providers rightfully deserve the spotlight.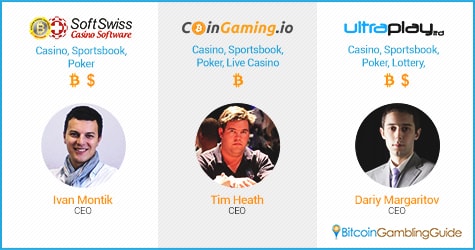 CoinGaming.io
Eliminating the complex processes of setting up and operating an online casino is the main objective of CoinGaming. This business-to-business company provides the software that can be integrated into websites that may function as a Bitcoin casino, sportsbook, live casino, and poker room or everything combined.
It is exclusively made for Bitcoin gambling, so brands running on this Bitcoin casino software platform are what the market calls Bitcoin-only online gambling venues. BitCasino.io, one of the largest Bitcoin casinos today, and mBit Casino are perfect examples of brands that are powered by CoinGaming. Vegas Casino, 365BetBit, and Bluffabit are some of the other names connected to this software provider.
The company's CEO is Tim Heath, and he is responsible for pushing for the expansion of CoinGaming's flagship brands. This software actively partners with renowned game content providers in order to effectively deliver a top-quality Bitcoin gambling experience.
SoftSwiss
With the numerous Bitcoin casinos running on this software technology, the name SoftSwiss should already be a household name in the Bitcoin gambling community.
This provider's first casino launched in July 2013, and has since then powered more brands in the market. It offers a range of Bitcoin gambling solutions for businesses to choose from should they wish to set up a casino, a sportsbook, or even a poker room.
SoftSwiss' expertise and dedication are evident in the established names in this niche like BetChain Casino, BitStarz, and Birwo. Moreover, with its partnership with Cubits, all brands operating on this software platform are equipped with the option to accept both cryptocurrency and real money.
Headed by its CEO, Ivan Montik, this provider never stops in improving its craft and expanding its world of provably fair online gambling.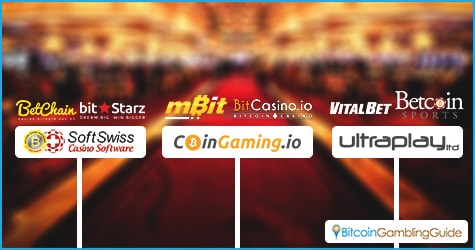 UltraPlay
Not a stranger in the iGaming field, UltraPlay emerged in this business in 2010 and opened its services to the Bitcoin market three years after. Since then, it has created a collection of gambling websites that forward the trademark of the provider in terms of sportsbook, lottery, poker, and casino.
The UltraPlay software supports a wide range of languages, thereby making it ideal for brands that target worldwide players. What this provider is becoming known for lately, however, are the sports betting solutions that also include eSports, which is strikingly celebrated on VitalBet, the official sportsbook and casino of Manny Pacquiao. Betcoin Sports, the sports betting arm of Betcoin.ag, is another sportsbook that runs on this technology.
Dariy Margaritov is at the helm of this company and is spearheading for a more revolutionized online gambling with the recent launch of the revamped UltraPlay software platform. Despite the strong focus on online sports betting, UltraPlay continues to bring competitive casino and poker games.
Learn more about the winning solutions and features of these three software providers in the next part.