The Bitcoin gambling industry is steadily expanding due to the continual integration of Bitcoin into the fiat-based online casinos.
In the past years, Bitcoin gambling platforms and various fiat betting sites are seemingly competing against one another. However, as more online gambling patrons move to side with the advantages of Bitcoin, real-money platforms have gradually learned to embrace Bitcoin gambling rather than adding more fuel to the fire.
To date, the Bitcoin gambling market is not only filled with straight-up Bitcoin gambling platforms, but is now flocked with dozens of fiat-powered casinos and betting websites.
Casino Extreme is among the few real-money gambling platforms to make a monumental buzz in the whole iGaming community after officially integrating Bitcoin into its website.
Casino Extreme now open to Bitcoin bettors
Established in 2000, Casino Extreme is one of the most sophisticated fiat-only online casinos that greatly contributed to the success of the iGaming industry. Compared to other platforms of its kind, it is among the ground-breaking brands to launch a platform powered by Realtime Gaming—one of the prominent software providers for real-currency casinos. It enabled this online gambling venue to deliver exclusive online gambling games and services to its patrons.
Moreover, this online casino possesses a unique downloadable client that greatly adds to the overall gaming experience of its clients. Through this application, bettors are guaranteed to experience maximum fluidity and precision whenever they do gambling since its games are now powered by a third-party system that is far from the typical, jam-packed Internet network.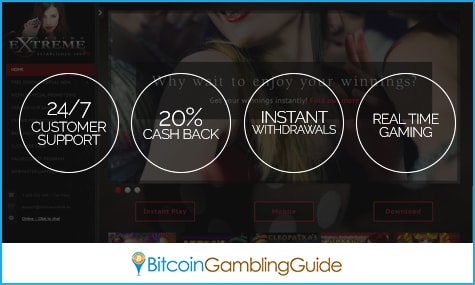 Finally, Casino Extreme never forgets to return the favor to its supporters. New and long-term players are welcomed with bonuses and promotions that are established to further amplify their gambling enjoyment. One of which is the lucrative 20% cashback bonus that comes with no wagering requirements at all.
In addition, this casino's customer support department is deemed to be one of finest when it comes to resolving players' casino-related queries. In fact, this platform is one of the first to integrate an online chat feature that operates around the clock. As such, struggling players are given the quickest solutions in real-time.
These feats are yet to be launched by competing platforms during those times, thereby making Casino Extreme one of the top brands on the online casino scene.
In spite of these monumental achievements, the people behind this successful online casino still want to provide avid gamblers with the best online casino experience possible.
Given this idea, Bitcoin's introduction to the iGaming market showed great opportunities for the casino's team that eventually resulted in a groundbreaking development.
Through undergoing a rigorous process of analysis and integration, Casino Extreme has successfully integrated Bitcoin into its platform and is now open for Bitcoin gamblers.
Considering that its network originally operates under real currency bets, this casino has displayed astonishing versatility because of the fact it allows bettors to fund their account in Bitcoin without the need to pass through third-party exchanges.
In addition, this venue has also integrated an efficient Bitcoin withdrawal option that guarantees instant cashouts to cryptocurrency players.
Ultimately, its Bitcoin processing power is fluid, giving bettors the vibe that this casino is entirely Bitcoin-powered.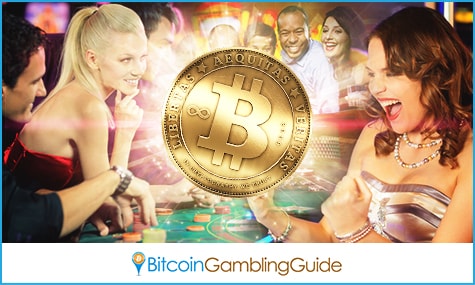 Bitcoin—vital for the positive advance of the whole iGaming niche
It is clear that Bitcoin's benefits gain continual respect and applause on the iGaming market. This cryptocurrency is literally packed with features that greatly benefit both casino operators and casino gamblers.
Payments are done securely, instantly, and with minimal to zero charges. In addition, gamblers can maintain the secrecy of their financial information while indulging in various Bitcoin games.
Ultimately, through Bitcoin, casino and other gambling platforms can integrate the provably fair feature that grants the transparency and legitimacy of every game result. These factors are certainly vital components to the interests of online gamblers.
Being an experienced online casino platform, Casino Extreme has realized these potentials and has immediately integrated Bitcoin into its system. Currently, this website is continuously garnering favorable responses among the gambling community because of its effectiveness as a real-money online casino and as a Bitcoin casino.
Taking Casino Extreme as an example, it is safe to say that if the whole iGaming niche integrated Bitcoin into its system, the online gambling landscape will never be the same.