SoftSwiss embodies innovation as it continues to share its expertise and knowledge with the online gaming industry. This year may have been filled with its developments and new products geared for the growth of the market, but this is only a preview of what is to come in 2015.
For the leading Bitcoin casino software, the mobile game development is crucial for the business. Thus, during the second half of the year, the industry witnessed the rise of the SoftSwiss games optimized for the mobile Bitcoin casino sites.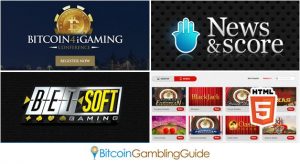 Expanding its portfolio of services, however, was not the only target for the year as it opened its gaming solutions to welcome more games from a variety of game content providers. Now, SoftSwiss offers entertaining products from Quickfire, Amatic, Ezugi live dealer, and Betsoft Gaming.
SoftSwiss CEO Ivan Montik believes that constant improvements on the games and solutions they provide are essential to keep its position in the market.
He told Bitcoin Gambling Guide:
"The global goal is to keep our position of a leader on the Bitcoin casino software market. To meet this goal, we follow the development of the latest technologies and make sure that our product is well adapted to the latest trends. We investigate on the other cryptocurrencies a lot, too, and plan to continue implementation of those which have good potential to take their market share."
As part of its drive to stay up to date with the current trends, as well as begin new ones within the Bitcoin gambling arena, SoftSwiss also launched revolutionary software solutions for sportsbook, betting exchange, and betting shop.
In fact, it is the power that drives News&Score Bitcoin Betting Exchange, a one-stop platform for Bitcoin sports betting, casino games, and the hottest news on sports events, along with anonymous, instant, and automatic online betting.
Aside from the transformation in the solutions it offers, SoftSwiss also actively promotes the Bitcoin casino market, even Bitcoin itself, as evident with its sponsorship of Bitcoin4iGagming, a pioneering event that highlights the fusion of iGaming and the digital currency.
With another year to begin, SoftSwiss can only promise to continue delivering more great things that will benefit and speed up the maturity of the Bitcoin gambling industry. One of them is the new SoftSwiss online poker software.