Name: Olle Dickson
Age: 28
Currently residing in which country: Sweden
Favorite pastime: Music
Years in the industry: 8
Profession/Job title: Marketing Manager
---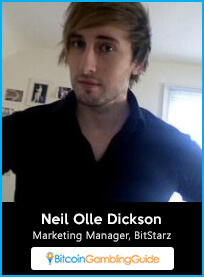 Bitcoin Gambling Guide: Hi, first of all, tell us and our readers a bit about yourself! How did your career start in the industry? What was the catalyst for you to start working with BitStarz?
Ollie Dickson: Hi readers! I'm going to do my best not to make this sound like a match.com profile, but my name is Olle, Swedish native who's been working in the industry for the past 9 years.
I actually started off working in customer support at bet365, where I quickly got into content writing. Since then I've worked for some other major companies in the gambling industry and discovered that I had a talent for Marketing/CRM (It's something!).
For me personally, it was all about the organization that are focusing on aspects that players actually care about, as well as the Bitcoin niche of course.
BitcoinGG: Can you tell us your thoughts on Bitcoin as a technology?
OD: I think it's a great concept and without getting too technical (I'm sure a lot of you guys are way more BTC-savvy than me), I really appreciate the anonymity of using BTC. On top of that, being able to follow a transaction publicly online without majorly jeopardizing this anonymity is a fantastic thing.
BitcoinGG: Tell us about your brand, what are the strong points and what differentiates you from the competition?
OD: A lot of casinos out there are offering quite the same things: same payment methods, same game selection, etc., which can make it a challenge to stand out as a brand. For us, I believe the 10-minute average withdrawal processing is one of the strongest sides of BitStarz.
A major downside of many casinos is that they are quick to accept deposits but when it comes to withdrawals, it's the other way around. Well, that's never the case at BitStarz as we're proud to offer the fastest cashouts online.
On top of that, I think the support guys are doing a phenomenal job. Shout out to Mike and Chris!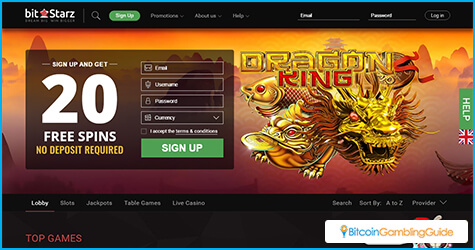 BitcoinGG: What hurdles have you needed to overcome to get your company to where it is today?
OD: Many. And I think there are new hurdles appearing all the time, which means that you always have to be in lookout for the latest casino trends to make sure you're on top of things.
All we want to do is give the maximum amount of entertainment for your money, and doing that means you've got to spend quite some time and resources to read up on what's going on in the casino world and most importantly, listen to the players!
BitcoinGG: Where are you operating from? How big is your team?
OD: The casino is based on the sunny island of Malta and we've got a 10-20 people team.
BitcoinGG: How do you see the future of bitcoins and online gambling?
OD: Well, first of all I think there'll be more and more casinos starting to adopt Bitcoin as a currency. I'd be surprised if we didn't see some bigger casinos accepting it soon, they're just a little slower in general when it comes to adopting new things.
I know there's an issue in accepting and wagering in BTC for many of the larger casinos out there, but I'm sure they'll start accepting and depositing in BTC which will be instantly converted to EUR and other fiat currencies. The obstacle in the past has been their license issuers not allowing BTC. However, as UKGC mentioned earlier this year that they'll start allowing Bitcoin wagering, I believe that Malta will follow suit shortly.
BitcoinGG: If you could change one thing about Bitcoin and online gambling, what would it be?
OD: My wish here is that there would be a lot more gaming providers opening up to the Bitcoin market. There are so many games out there that are absolutely phenomenal and are not being offered to the Bitcoin community yet, which is a shame.
BitcoinGG: What is your view on affiliates and how should the relationship be built?
OD: I think it goes like any other business relationship, on mutual respect. I'm a big fan of rev-share affiliation as it benefits both parties. I don't think there's a major secret recipe, more common sense and courtesy.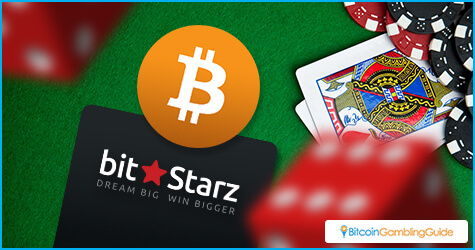 BitcoinGG: What developments do you see happening in the future for Bitcoin and online gambling?
OD: I believe there will be more convenient and cheaper ways to purchase Bitcoin, which would obviously be a logical step as the popularity of the currency is growing. The more people adopting this currency will result in a higher supply and pushed down margins for exchanges.
We've also seen that a lot of fiat players have discovered the benefits from Bitcoin and have started to use BTC instead of regular currencies, so I think the overall turnover and deposits in many casinos will progressively shift to BTC spending.
BitcoinGG: Describe your brand in 10 words or less?
OD: Oh man, this is a tough one. "Best casino bonuses and the fastest cashouts online"
BitcoinGG: What is your opinion on Bitcoin Gambling Guide?
OD: We really like that there's a source out there where people curious about Bitcoin gambling can gain as much information as possible. I'm very pro everything that has to do with the spread of information of any kind, as it hopefully means people will make more educated decisions in the end. So, all I can say is: keep it up!