A new slot game from iSoftBet stands out early on with its unconventional game features like the 100 pay lines and two sets of five reels.
iSoftBet 's Forest Mania showcases the strengths of the London-based software developer. The new online slot has a high production value and interesting features that will capture the attention of many slot enthusiasts of iSoftBet in Bitcoin gambling.
Nir Elbaz, managing director at iSoftBet, said:
"Presented during the ICE Totally Gaming event in London, Forest Mania has received rave reviews from the industry for its engaging gameplay which is backed up by solid maths. iSoftBet is a company that has a broad range of products to cater to a wide audience, and this new game appeals to both novice players, who will appreciate its spectacular graphics and pleasant soundtrack, as well as the experienced ones likely to value its dynamic features and numerous opportunities to win big."
Forest Mania slot
The most noticeable part of Forest Mania by iSoftBet is its two sets of reels. The first set is a traditional 5×4 reel. The second one is a massive 5×12 reel. The two sets are independent of each other. Players can match a set of symbols in the second set of reels even without matching any symbols in the first one. The two reels and 100 pay lines open the doors to different big win opportunity.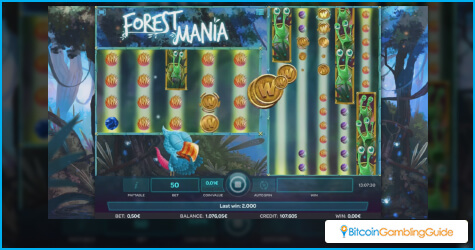 Forest Mania's another unique feature is its three adorable creatures at the bottom of the first set of reels. At a certain part of the game, a forest critter will drop a wild acorn onto the three creatures. The three will fight over the acorn and the last one standing will determine what type of feature will activate.
If the blue bird is holding the acorn after the first, a random number of symbols around the reels will turn into a wild one. Should the cat-like creature hold the acorn, one or more reels will turn all of its symbols into a wild one. If the baby gator wins the scuffle, the player will get several free spins.
Forest Mania in Bitcoin casinos
iSoftBet is a well-known software provider in the industry. Major Bitcoin casinos that run on the SoftSwiss platform like Golden Star Casino have an extensive library of the iSoftBet games. This is due to the game content provider's dedication in giving its games incredible graphics and features. iSoftBet even has a series of brand-based games that uses references from popular TV series and movies like its Paranormal Activity slot.
Forest Mania, together with other iSoftBet Bitcoin slots, is sure to become available in many Bitcoin casinos. Other Bitcoin casinos like BitCasino.io also have this iSoftBet slot in their game library playable by fiat and Bitcoin.