Playing casino games online has never been the same since the advent of Bitcoin gambling. This activity becomes even more varied and attractive with the rise of online betting platforms that run on altcoins.
L8 Litecoin Casino is one of the several platforms that veered away from the Bitcoin casino market, and focused on Litecoin instead. Owned and managed by Thomas Nguyen, this casino features four games: roulette, blackjack, video poker and dice.
Nguyen told Bitcoin Gambling Guide his views regarding his business' success and the factors needed for Bitcoin and Bitcoin betting to reach another level.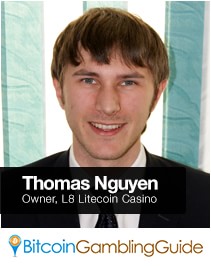 How did you first get interested in cryptocurrencies?
One of the original owners of the website has always been a great fan of gambling in real life, played a lot of poker and other games, and has got interested in cryptocurrency mining in 2010. While mining cryptocurrency he has decided to play with some on Satoshi-Dice, and liked it. Thus the idea of creating website for alternative cryptocurrencies has been developed.
How long did it take you to launch your website?
It took about 6 months from developing a general concept to creating a website that is both easy to use and provides pleasure for the end user—from a concept that we would focus on the alternative cryptocurrencies instead of Bitcoin to game design and code.
What makes L8 Litecoin Casino one of the best?
The website is mostly a proof of concept for the future integration of cryptocurrency as a way of payment for our future projects. We are also focusing on the cryptocurrencies other don't bother to do it. For example, we are successfully running a casino for CloakCoin, a coin that is focusing on the POS anonymous transactions.
What have been the greatest accomplishments and surprising challenges you have had while operating this casino?
As the project was started mostly as proof of concept that it is possible to work with cryptocurrency as payment token, we thought that we might not have enough real life players, but eventually we were the leading website in the Dogecoin gambling sector and people were really happy about the site itself. We have also added a variety of games usually not found on the other websites. True style European Roulette and Chuck-A-Luck games were not presented to the public. But we did it.
What characteristics of your website do you consider innovative?
Since the opening we have been focusing on the alternative cryptocurrencies more than Bitcoin itself, and we have been endorsing Dogecoin since day 1. Therefore, we can proudly say we were the first website to play with Dogecoins. Other than that, our site is easy to use, works on any device, and provides hassle-free gaming experience. Also, we are deep into a niche market for currencies like BlackCoin, CloakCoin, Litecoin and Dogecoin.
Are you planning to expand or are there similar projects in the works?
Currently we are not thinking about expanding on the cryptocurrency gambling websites; however, we have a few other games we have developed during our operational timeframe. DogeDigger is our vision on the Satoshi-dice with more luck and more chances. Also there is a cryptocurrency building game undergoing development where there will be possibility to earn cryptocurrency by actively participating in the game.
Technology can work for and against you. How prepared is your website's security?
We are constantly facing attempts of hacker attacks, but they are usually not successful. We do pay for found bugs in our system. We utilise the most commonly used methods of off-site cold storage, WaF and DDoS protection to make our life a little bit easier. Anyhow we do follow this approach: "I don't have to run faster than the tiger," he says. "I just have to run faster than you"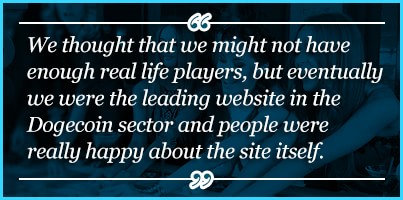 How would you handle players suspected of cheating?
We do random checks of players from time to time, and our automated system is performing analysis for inconsistent data. Usually we don't have problems with cheating players, since our system is utilising strong hashing methods to secure the data.
Do you have some sort of VIP program/promotion?
We constantly are performing promotion on Dogecoin-related sites, Twitter, Facebook, IRC chats. We are also helping faucets with donations to increase the widespread of crypto. Also we are doing giveaways on our local house chat, celebrating important dates with balloons and negative house edges on video poker.
How about an affiliate program? Can players maximize their profits here too?
Yes, but it is currently undergoing a closed beta test program; therefore we don't advertise it much. But it is possible to join under certain circumstances.
For the last two questions, what can you say about the following: first the gambling laws; second the cryptocurrency legality and regulation?
We think that cryptocurrency and gambling has opened a lot of opportunities both for the gamblers and game providers to provide high quality service, with possibility to have every game hash being provably fair.  What current generation of cryptocurrency game providers have shown is that there is definitely a way to exist in such market with games that are fair, have low house edges.
How about your opinion on the factors that will make Bitcoin a more effective and prominent payment method?
To become a more prominent and reliable form of payment, Bitcoin has to get conversion to fiat. Some good or services that would be traded for Bitcoin should cost in Bitcoin, otherwise the higher is liquidity on the market the harder for Bitcoin is to grow.
Thank you, Thomas, for your time. I appreciate it and all the best with your projects.