Houston, we have a problem.
Having more casinos to choose from is certainly not a cause of concern, but it becomes one when two casinos are managed by the same operator. It becomes even worse for the affiliates, marketers, and even players directly involved in the two brands.
Mars Casino officially launched last week. It became—as how marketing goes—the first casino to land on the red planet. Its website is filled with familiar games from the partner developers of SoftSwiss, along with attractive promotions for all kinds of players.
This new Bitcoin casino was indeed all set to provide the best online gaming experience one could ever ask for in the universe. But there is one thing that makes Mars Casino problematic—it is a sister brand of 7BitCasino.
Harmful to affiliates and marketers
It is common knowledge that cross-selling exists in the iGaming market, and this is more prevalent among brands owned by the same operator. While this scheme proves to be effective on the management side, it is otherwise for the affiliates and marketers of the older brand.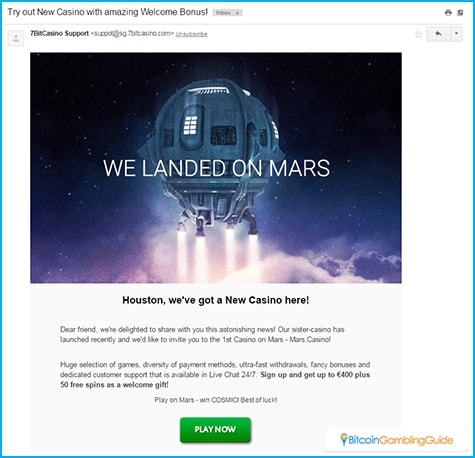 This is the reason those affiliated with 7BitCasino will likely experience revenue loss. This stems from the moment 7BitCasino succeeds in persuading more players to jump ship to Mars Casino. In the event this happens, fewer players would be interested in signing up at 7BitCasino. In return, affiliates would have a hard time inviting players to play in the older casino and would eventually get lesser profits in the long run.
7BitCasino players in danger, too
The trend with this set-up is that most of the resources will now be allotted to Mars Casino. In fact, the graphics alone of the new Bitcoin casino is promising, so much that it becomes more enticing to play there than at 7BitCasino.
If the operator prioritizes the promotion, development, and maintenance of Mars Casino over those of the other, chances are the key features of 7BitCasino would suffer. This will result to a less desirable Bitcoin casino, which will logically dissuade existing players to continue playing there. After all, an online casino with a rarely updated game library and dull bonuses and promotions fails in today's competition.
In fact, the welcome bonus at Mars Casino looks more attractive than what 7BitCasino offers. This is just one factor that may eventually lead to larger differences.
A threat to Mars Casino
Being a sister casino has its perks, but this set-up can also backfire and leave Mars Casino out of the equation. If the players have had a bad experience with 7BitCasino, they will never create an account with Mars Casino, especially knowing that it belongs to the same operator.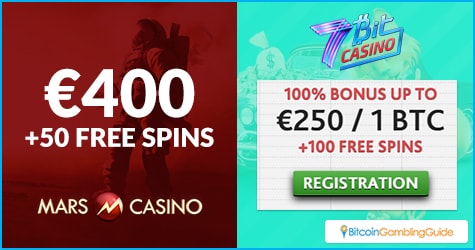 If Mars Casino fails to provide features that will set it apart from its sister brand, then the players would rather stick to the casino that has been in the business for a longer time. This is how the first casino in Mars will get lost in space.
Should this be a problem to 7BitCasino? It should be since Mars Casino's success partly depends on its credibility and reputation in the Bitcoin gambling market. Now that Mars Casino is up and running, these are the problems likely to take place, clearly presenting how key parties are affected by the idea of multiple brands under one operator.