Immediate assistance is essential each time online gamblers encounter problems, especially when these involve the bankroll and the cashouts. The amount in question even dictates the level of importance of the concern and the urgency for it to be resolved.
Contacting customer support is the solution, and there are different channels online bettors can do this. There are Bitcoin sports betting sites, casinos, and other gambling sites that offer a complete range of customer support options, including support through email, live chat, and contact form. Although many appreciate live chat support for its prompt response, many players still favor phone support.
Someone to listen
The problem, however, is that many Bitcoin casinos do not have the comprehensive customer support options that their bettors would like. Most of the time, this can be traced to the fact that these are small-scale online gambling sites.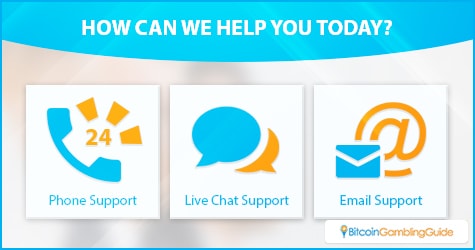 Bitcoin casinos operating on a larger scale are often better in providing a more comprehensive customer support service, which typically resorts to live chat and email. Phone support, unfortunately due to the anonymous nature of Bitcoin and its industries, is normally unavailable—a complete opposite among fiat currency online casinos.
Fortunately for the players, finding phone support is becoming more common in hybrid or multi-currency casinos, those that accept Bitcoin and fiat currencies. Having this option on board is important for several reasons.
One of these is that it is easier for customers to feel that they are involved in human interaction when in contact with a phone support agent. This is because instead of reading an emotionless email or chat window, people can hear a person talking to them.
Another reason is that many people feel that their concerns are resolved more quickly when done over a phone call. Fast problem resolution is what everyone wants when they come to customer support, and a phone hotline encourages this to happen.
Other than human interaction and prompt solutions, speaking with a support agent allows the players to effectively express themselves and relay their concerns.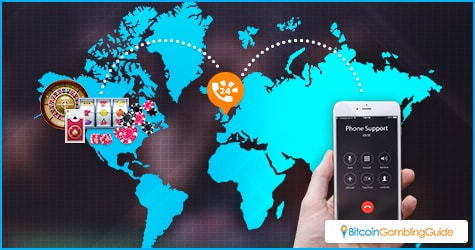 Implementation worries
For many online casinos, though, getting some phone support can be problematic. For smaller sites, this is because of the expense. Outsourcing the hotline to a call center can be expensive, while having an in-house team is even more challenging vis-à-vis the operator's budget. Some sites handle this by limiting the time that the hotline is open. For instance, some gambling sites only take calls during the local working hours in the time zone of the site's main office.
Other methods involve recording messages from customers and responding to them via different means. This can be a good cost-saving measure, but it will most likely not be as effective as having an agent talking to the customer in question.
Having phone support goes beyond having someone answering the phone. Gambling operators should ensure that the phone number given is correct and can be reached. Some casinos do provide phone numbers, but they are either inactive or are redirected to a different casino, which only proves the importance—or the lack thereof—given by the Bitcoin gambling site to phone support.
If a Bitcoin casino wants phone support, then it should put the effort into making sure that it works as smoothly as possible.