Affiliates and online gaming enthusiasts from different parts of the world are welcome to become part of the largest affiliate event of the year, the London Affiliate Conference 2015.
Aimed to top last year's event's record-breaking 3,400 attendees, the 9th LAC will run for four days from Jan. 31 to Feb. 3 at Olympia, London. With a crowd of more than 3,800 people expected to come, iGaming Business—the leading publishing, research, and events company behind the conference—announced this year's event will take place in a larger venue.
"We expect this to be one of the biggest events that we've had in recent years," said Alex Pratt, Head of iGaming Business. "It's not unreasonable to be expecting over 3,500 people attending this year's London Affiliate Conference."
With a list of fresher and improved discussion panels, presentations, as well as other scheduled activities, the four-day event is all set to provide affiliates and enthusiasts with quality time and experience.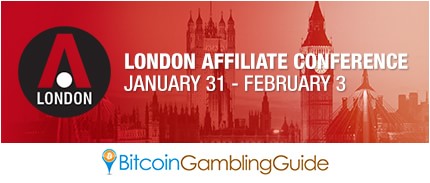 LAC 2015 will give the floor to a number of interesting and timely topics presented by noteworthy speakers. Julia Logan a.k.a IrishWonder, Founder of IrishWonder, will talk about "Diagnosing and fixing a hacked site," Lloyd Cooke, Head of SEO at Latitude Digital Marketing will host "Backing the right domain for international success," while other speakers are Michael Caselli, Editor-in-Chief at iGaming Business, and  Eric Benz, International Director of Operations at GoCoin, among others.
Aside from the long list of topics and speakers, LAC 2015 also has more in store as it launches the Acquisition zone, which is an area specially for service providers involved in the marketing sector, including the creative agencies, performance marketing, tech companies, and email service providers to name a few.
Bitcoin Gambling in LAC 2015
Also making this year's bigger and better LAC event is the inclusion of the presence of the Bitcoin gambling market.
In the talk titled "Bitcoin Gambling: How can affiliates take advantage" presented by Oron Barber, co-founder and CEO at CoinPoint, online gaming affiliates will learn about the numerous opportunities in indulging in the growing business of cryptocurrency gambling.
With the niche already gaining momentum since last year, more Bitcoin casino platforms, sportsbooks, poker rooms, and other gambling sites are expected to offer innovative products and services beneficial to the online gaming community, affiliates, and the market.