A lucky player from Wisconsin, USA took home more than $1.5 million after getting a royal flush in a popular card game Let 'Em Ride at Café Casino.
Jason M. became the latest winner in the casino, but he stands out as he evidently became an instant millionaire in a snap of a finger.
Café Casino's manager, George Mallory, said:
"Its life-changing moments like these that really make what we do worth it. We couldn't be happier that we've had a hand in creating another millionaire. All the best to Jason, and here's to providing more opportunities like this one to all our loyal players."
He played the popular card game, where he got fortunate enough to land a royal flush. Café Casino, which accepts Bitcoin for both deposits and withdrawals, paid out his $500 with the multiplier 1000:1.
Winning against impossible odds
Jason's golden goose at Café Casino is the Let 'Em Ride poker game. It has a straightforward rule that makes it simpler to play than other poker variants. The goal of the game is to make a large bet on a winning hand and to bet low on a losing one. Let 'Em Ride still follows the rules of poker when it comes to the value of a hand.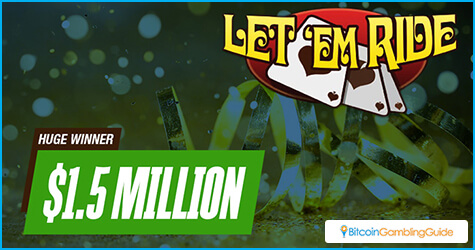 What makes Let 'Em Ride poker different in this Bitcoin casino is the way the bet is made. Players have three sets of bets they can make. The main one is the ante, which players always need to make to play the game. The other two bets are optional and have an amount the same as their ante.
The game begins by revealing three cards to the player and placing two facedown cards at the top. Players can choose to put down their first optional bet before revealing the first facedown card. Before revealing the second card, players decide on using their second bet.
The payout a player receives depends on the value of his hand. The minimum paying hand is a pair of 10s or better which is one to one. Jason was able to get the royal flush hand. The payout rate of this hand is 1000 to one. This gave him a massive $1,501,500 payout. The payout is only possible if Jason has $500 on their ante and decides to play the two optional bets.
Other big winners at Café Casino
Apart from Jason, there have been several players who already took home large payouts from Café Casino. Theresa L. from Nevada won over $21,000 from playing the Goldbeard slot. Bardo Ricardo L. from California took home more than $18,000 from Crystal Waters slot. Keith E. from Georgia won almost $84,000. So far, Jason was the only player who has won more than a million.
Café Casino, which is among the casinos under Betting Partners, offers new players up to $5,000 in welcome bonus.