Who would have thought that spinning the reels of the Diamond Wild slot could get a player 150 BTC richer?
For the uninitiated, this prize amount is almost $90,000 as of current conversion, and this is the reason the lucky player who bagged this much from playing the iSoftBet slot on BitStarz could not have had a better day.
The lucky BitStarz player said:
"I was actually having the game on auto spin, but followed every spin on the screen, and when I hit multiple diamonds symbols, I couldn't believe my eyes and I wasn't sure if I had won or not. But when I saw the Big Win screen, I knew it was true!"
With his name undisclosed, this player can easily be the luckiest Bitcoin player to date, and his winning record will prove just that. Months before this 150 BTC win, he won 95 BTC from playing Lucky Coin. This win, then, recorded the highest Bitcoin prize won in the Bitcoin casinos.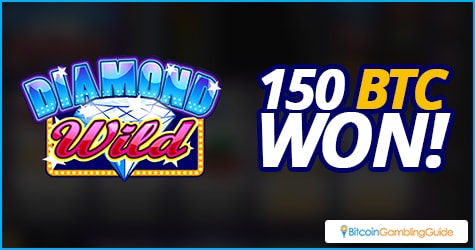 The 95 BTC win, which is roughly $56,000 today, plus the 150 BTC prize already made this lucky player have a record of about $145,000 prize won from BitStarz alone.
Huge wins favorable for BitStarz
With the lucky player's winning streak, BitStarz get the spotlight, and it cannot get any happier that one of its registered players experiences such excitement.
Kate Garber, Marketing Manager at BitStarz, said:
"I'm so happy to see one of our players reeling in such a massive payout, especially on one of the slots from our latest added game provider iSoftBet. They say that diamonds last forever, but I have a feeling this player might break the record again."
The recent major win proves that the integration of the iSoftBet games into the Bitcoin casino was the right move. It was halfway through the year when BitStarz officially acquired through SoftSwiss more than 50 games from the iSoftBet gaming suite, which is largely composed of branded slots, online slots, and other games.
Of these recently added iSoftBet games is the Diamond Wild slot, which is just one of the 700 and more games on board the Bitcoin casino. How the player won from this slot game is sheer luck at its finest.
More iSoftBet slots for massive payouts
With the Diamond Wild already proven to be a great source of Bitcoin wins, players can also check out the other iSoftBet slots available on BitStarz.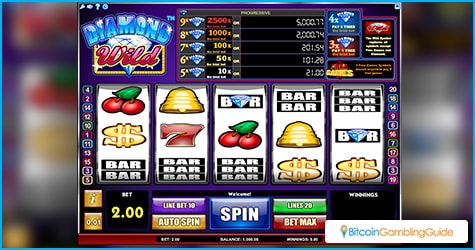 For instance, the Ninja Chef slot, which is among the popular titles from this game content provider, features over 30 pay lines and have a 5.5-percent house edge. Its theme also stands out and makes it a favorite among online slot enthusiasts.
Another excellent iSoftBet slot is Platoon, which was recently boosted by the release of the Platoon Wild slot. This upgraded version of the Platoon slot makes playing slots a thrilling experience that could worth more Bitcoin wins.