A lucky anonymous player won a massive Bitcoin casino payout of 259.74 BTC at Bitcoin Video Casino last month. The amount staked was a mere 0.1 BTC on the slot game in the casino.
Bitcoin Video Casino is a popular online casino among Bitcoin owners. Despite the simple and straightforward look, it offers authentic odds and has given much larger payouts. The recent big winner joined the long list of big winners dating back to three years ago.
Big jackpot win in Valentine's week
The anonymous player goes by the account ID of 28ea0d38e1. He had 0.1 BTC and seven pay lines open per spin. At 3:02 p.m., he struck gold with a 259.74 BTC payout for the big win at Bitcoin Video Casino. If he were to convert his winning to US dollars at this time of writing, he would have won more than $312,000.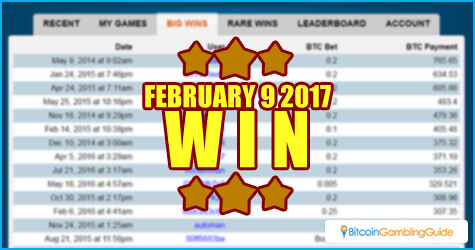 There have also been many players who got lucky with the casino before. But the most amazing win at Bitcoin Video Casino so far was when the player registered as Khalifa hit a total of 765.65 BTC after playing the similar slot game. He played eight lines with a 0.2 BTC bet and was lucky enough to take home the casino's largest jackpot to date.
Meanwhile, the second largest payout also occurred in the slot game. The player won 634.53 BTC from a 0.2 BTC stake and with seven pay lines activated.
Bitcoin Video Casino details
Of the 20 big winners in the Bitcoin casino, a majority of them won a massive price amount through the Bitcoin slots. Two of the winners got it through the video poker, while another received 329.521 BTC from playing Keno last year. This was among the largest casino wins in 2016.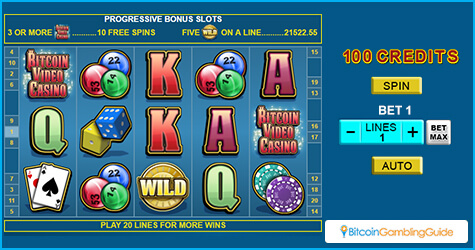 The slot game at Bitcoin Video Casino is a basic five-reel slot game with 20 pay lines. Its bonus mode consists of free spins by matching the scatter symbol. The slot has a progressive jackpot, which is an increasing prize pool. A player can win this by matching five wild symbols on an active line.
Despite the dated look of Bitcoin Video Casino, there are many players that visit the online gambling site. This can be due to the 0.5-percent house edge that the site offers for certain games. In other words, players can expect a return of 99.5-percent on the site's video poker and blackjack. The lowest house edge anyone can find in the casino is 0.3 percent through the craps game.
Bitcoin Video Casino is open to almost anyone who wants to wager his digital currency. The casino automatically creates a random account for any new players who want to start playing immediately. Those who want to change the username of the account and set up a password can do so anytime.
This Bitcoin casino also allows anyone to play anonymously. Players are not needed to provide personal information when they want to deposit or withdraw bitcoins.