Liverpool will be battling on Manchester's home turf for the March 19 Premier League match. There is a lot at stake for Liverpool in this match as this could get them into the third place of the league.
Most Bitcoin sports betting sites are placing Man City as the favorite for this match since Liverpool is playing away. Regardless of the odds, this Manchester City vs Liverpool match promises to be an exciting clash between longtime rivals.
Top four positions
At this time of writing, Chelsea is at the top of the league with 66 points. Tottenham and Manchester City have 56 points while Liverpool has 55.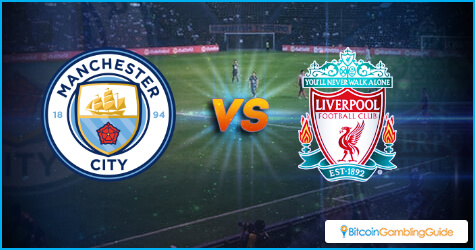 Man City has been on an incredible winning streak in February but this ended with a draw against Stoke. On the other hand, Liverpool's win against Burnley placed the team squarely in the top four. The team is five points away from Arsenal and six points from Man United.
Right now, Man City still has a shot at reaching and wrestling the lone top spot away from Chelsea if the team can get a win from Liverpool this Sunday. Even if they did get the win, it will be a close call since the league is two months away from ending.
With the new Premier League rules, Bitcoin sportsbooks are in favor of Manchester City this Sunday. 1xBit gave Manchester 1.96 odds and Liverpool 3.86 with a chance of draw at 3.7. PowerBet odds are also close with Manchester at 1.98, Liverpool at 4.00 and a draw at 3.78.
These odds show Manchester's advantage with playing in home territory. Another reason can be due to Liverpool's loss to Hull and Leicester city in February.
If Manchester can bring back its performance from its earlier matches in the league, the odds on them will be justifiable. On the other hand, Liverpool is going to need to be in top form if they are to secure the number four spot.
Crucial threats on defense
Manchester and Liverpool have a problem with their defense. The two gave up too many important points throughout the season. Even with Sergio and Sadio's creative attack to the goal, the teams are unable to coordinate with each other to effectively block the other team's attack. Liverpool is the guiltiest of this where they allowed 35 goals to pass through them while Manchester allowed 29 this season.
There are no indications that either managers found a way to patch up the threat on the team's defenses for this much -awaited match. This is why Directbet gave the odds of Over 2.5 Goals at 1.62 and Under 2.5 Goals at 2.2. On 1xBit, the odds for a total over 3 is 2.064 while a total under has 1.74 odds. Bettors can also wager on a series of other prop bet available in this Bitcoin sportsbook and casino.