MMA fans are in for a treat this weekend as the highly anticipated rematch of Connor McGregor and Nate Diaz headlines UFC 202. With these two fighters expected to showcase intense skills inside the octagon, sports betting enthusiasts had better get their wagers placed.
Several Bitcoin sportsbooks already have the odds for McGregor and Diaz, and they all clearly favor the Irish. The Notorious, with a 19-3-0 record, is expected to come back stronger, especially in the first and second round. He is thirsty for this revenge, and reports say that he even spent almost $300,000 to prepare for this rematch.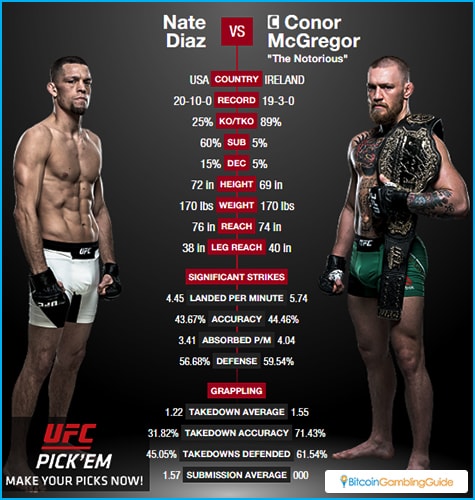 These are the reasons Bitcoin sports betting sites put McGregor at the advantage with BetBaller giving him 1.76 odds of winning. Nitrogen Sports placed him at 1.804, which is almost identical to DirectBet's 1.80 odds. SportsBet.io, on the other hand, set 1.70 odds for McGregor to win the match.
Bigger payoff with the underdog
The Bitcoin odds for Diaz, however, are not as far from McGregor's. SportsBet.io gave him 1.85 odds, while BetBaller and DirectBet have him at 2.04 and 2.00 odds, respectively. Those bettors who still believe Diaz can pull off another win might want to place their bets on Nitrogen Sports since it registers 2.098 odds for the American.
Although considered as the underdog, Diaz still has the arsenal to give McGregor his fourth loss. Unlike in their first match, Diaz came underprepared, signing up for the fight only eight days before. Even with an incomplete camp, he replaced Rafael dos Anjos, who suffered from an injury prior to meeting McGregor. Despite these, Diaz won the fight in the second round via submission.
It is for these reasons that many fans are still willing to put their bets on Diaz. In fact, they will be in a better position in the event that Diaz actually overpowers McGregor. With slightly better odds, they will end up with a larger payoff.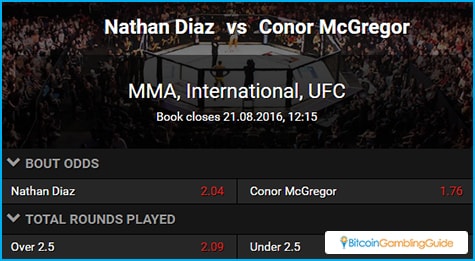 More McGregor vs. Diaz odds
Other than the odds for the fight result, bettors can also check out the odds over on DirectBet. This Bitcoin sportsbook favors a McGregor win by a KO, TKO or DQ with 2.18 odds as compared to the 5.4 odds given to Diaz. The fight is also expected to end in Round 4 with 5.6 odds while 8.2 odds are set for a full five-round match.
With a few more days left before UFC 202, sports bettors and MMA fans had better get their wagers ready and placed on the much-awaited rematch of McGregor and Diaz.
---
Originally posted on Bet on MMA with Bitcoin: UFC 202, McGregor vs. Diaz