MrDice.io is a Bitcoin dice site that entered the Bitcoin gambling scene this year. Though Bitcoin dice sites are a well-known phenomenon and a lot of them have popped up ever since SatoshiDice became a hit, the team behind MrDice.io remains optimistic and determined.
Their main motivation for setting up the site is to focus on spreading awareness of Bitcoin in South Africa in a fun and exciting way. The cryptocurrency has already made a lot of inroads into the continent. The backers themselves are big fans of it. However, there is still a long way to go.
This is how MrDice.io came to life—with the goal to encourage people from South Africa to get into Bitcoin. The site will not be all about that region, however, but they will be focusing a lot of their marketing efforts to target local players.
Have you met MrDice.io?
MrDice.io is a new online dice betting site that uses Bitcoin. None of the other cryptocurrencies are accepted here, but the operators' goal of spreading Bitcoin awareness explains why so.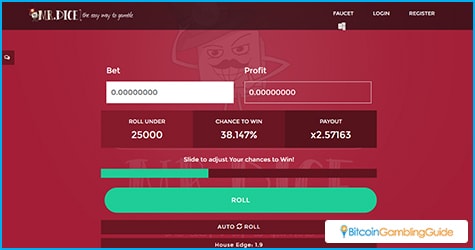 Despite being a newcomer, this provably fair Bitcoin dice comes complete with the right tools to ensure an enjoyable betting experience using the cryptocurrency. It has a house edge of 1.9 percent, which means that all the lucky players get to take 98.1 percent of the winning amount.
While some of the Bitcoin dice games offer a lower house edge, MrDice.io does give out 1,000 satoshis for free through the sites Bitcoin faucet. This should get every first-time bettor an early start as they also learn the simple rules of playing Bitcoin dice.
Players looking for the flashy designs and colorful themes typically found in online casinos are absent here. But this does not make MrDice.io any less pleasing to the eyes. Featuring complimentary solid colors, this site also comes with a unique mascot that was specifically designed by the German artists for the Bitcoin dice game.
With a user-friendly interface and easy-to-use Bitcoin dice game crafted by the South African art director and German site developers, even those new to the idea of Bitcoin are guaranteed to get a preview of how Bitcoin works while having a great time rolling dice.
Anonymity and convenient banking on board
Other than the quality entertainment in store for the players, MrDice.io also promises safety and convenience. The player anonymity employed all throughout the site is a distinct trademark of Bitcoin betting, and this is a feature new players get to enjoy after jumping ship from playing in online casinos where all the personal information are required to be disclosed.
Moreover, depositing and withdrawing bitcoins should not be a hassle at all. All deposits must meet only one confirmation while withdrawals with amount below 0.1 BTC per day are processed automatically. Those with amounts larger than 0.1 BTC per day require up to 24 hours to be cleared for security purposes. Regardless, all cashouts have a minimum amount limit of 0.001 BTC and a fee of 0.0001 BTC.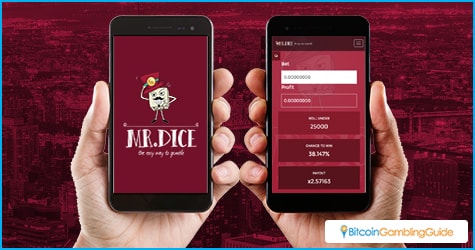 Future plans in the drawing board
The developers of MrDice.io are not resting on their laurels, though. They are aware that being at the top of the online gambling market means constant change and adaptation. This is why they continue to add more features and hope to keep their customers happy. One of the big updates they have planned is to release an Android and iOS app for MrDice. This will allow players to easily play the site from the convenience of their phone.
The team is not satisfied at stopping at MrDice.io, though. The goal is to promote Bitcoin so they already have grand plans of launching their own Bitcoin casino and sports betting site. It will be interesting to see what they release.