NOTE: This is the last part of the news series titled 'In Focus: The 3 Giant Bitcoin Software Providers.'
Going over the fundamentals of SoftSwiss, UltraPlay, and CoinGaming.io reveals that they all have distinct characteristics that make them stand above the competition. The features, products, and services they deliver are reasons enough for gambling operators to prioritize these software providers, even more so for players to patronize the games offered.
Granted that these three are already perceived to be the most popular and well-trusted names in this business, it is more logical to veer away from choosing the ultimate Bitcoin gambling software platform in today's market. Instead, choosing which of them excels the most in certain categories proves to be more reasonable and helpful for operators and bettors alike.
Management and setting up of casino
The colorful and lucrative façade of online gambling websites are but half of the factors normally considered by the stakeholders. The backend does matter too, and this is where SoftSwiss beats the other two.
Through the solutions created by the Austrian-based company, the process of setting up an online gambling site will only take about two to four weeks. The readily available solutions and packages help everyone involved—the operators in large part—to establish a brand and enter the testing phase before launching in no time.
Moreover, the integration of the top game content providers, Cubits payment technology, and support for both cryptocurrency and real money further makes working with SoftSwiss as flexible as any businessperson want it to be.
Both CoinGaming and UltraPlay have effective and attractive solutions at hand, but the user-friendliness of the SoftSwiss platform earns it the top spot for this category.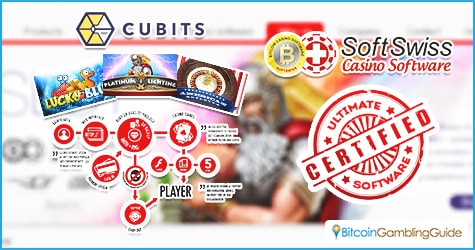 Games and betting experience
SoftSwiss has original, provably fair game content that are paired with the games developed by several renowned game provider and suppliers like Endorphina, Quickfire, Betsoft, and NetEnt. UltraPlay also boasts games from the leaders in iGaming: Microgaming and PlayTech.
CoinGaming, however, is the clear winner in this aspect. With 27 game providers on board, which translate to hundreds of games available to the brands and customers worldwide, this company has the world's largest Bitcoin casino library that is predominantly filled with online slots.
The variety of the games on CoinGaming-powered casinos effectively results in the increase in player traffic and number of bets, especially on the in-demand Bitcoin slots.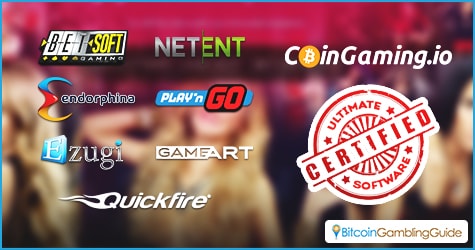 Innovation and software upgrades
UltraPlay rightfully deserves a special mention for showcasing promising technology directed at real-money and Bitcoin gambling. Its recent upgrade that yielded the UltraPlay 2.0 software platform is best seen on VitalBet.
With the focus clearly on sports betting, UltraPlay did the right move of adding the eSports betting module and highlighting it, especially today when the eSports gaming scene has a strong and solid potential of breaking out in the iGaming sector.
Online players who give prime importance on sports betting will highly appreciate the significant improvements on UltraPlay.
Meanwhile, SoftSwiss continues to provide cutting-edge technology and solutions evidenced by the previous launch of News&Score and a sportsbook platform. CoinGaming, on the other hand, needs to step up in this department and focus its efforts it allotted in building up its game library on creating a Bitcoin gambling platform that is also open to altcoins and fiat currencies.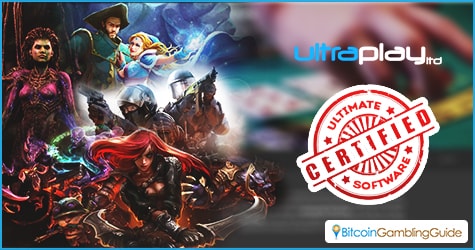 Clearly, these three software providers are leaders in this field, and they excel in different areas that are all important in this business. Prioritizing which aspect, then, is the main factor in determining the top Bitcoin casino software provider. But this boils down to personal preference, after all.
One thing is certain: operators will never go wrong in choosing any of these three premium software providers, and online players are assured of high-quality gambling that is best experienced with real money and digital currencies.