mBit Casino launched its new and improved Bitcoin sportsbook. Called the mBit Casino Sportsbook, the latest addition to the Bitcoin sports betting market boasts a wide range of sports options, including today's popular events.
Football, soccer, tennis, MMA, and boxing are just some of the hottest sport events on board mBit Casino Sportsbook. Further making this platform more powerful is the availability of competitive odds for the popular eSports games and tournaments across the world.
New mBit Casino Sportsbook
Months after closing the sports betting section, mBit Casino brought back its sportsbook offer to its players. mBit Sports is a separate sports betting gambling site that focuses more on sports wagers. Just like the previous sports betting section, mBit Sports will have 15 sports categories that are open to Bitcoin euro bets.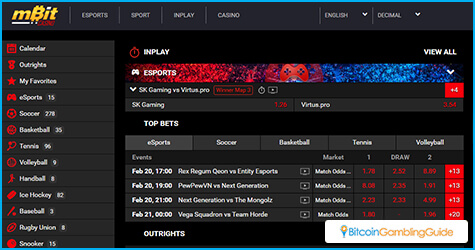 This also includes eSports sections. mBit Sports covers most of the popular competitive games in the eSports industry. This includes League of Legends, Overwatch, and Dota 2 to name a few.
The new mBit Sports also includes more categories and special wagers for non-sporting events. Bettors can bet on the rating of upcoming movies or the outcome of a political election.
mBit Sports will have a mobile friendly format on its release. Many punters can make sports bet in the sportsbook while on their smartphone or tablet.
Steven, the Casino Manager of mBit Casino, said:
"We saw a huge demand from our players, who were looking for a reliable destination to place bets on a large variety of sporting events using Bitcoin. Now, we are able to bring that to them once again with our new sportsbook!"
A major improvement from the old sportsbook
This is not the first time that the mBit Casino had a sportsbook. The casino previously launched one but it was temporarily closed to give way for the revamp.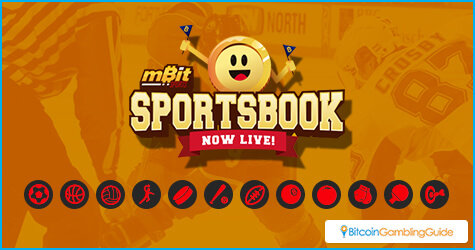 mBit Casino began its operations back in 2014. Ever since its debut in the industry, this casino offers a sportsbook feature as an addition to its casino website. However, when the company's sportsbook feature saw the light of day, the reception was somewhat lukewarm.
The old sportsbook section offered a fairly reasonable amount of sports matches and wagers. The sports betting section, however, was generic overall that most players hardly gave it another thought. mBit Casino could not make its sportsbook offers standout among other similar gambling sites.
The old mBit sports betting site also contained 15 sports categories. Most of the matches were on popular events and tournaments. These were not a bad set of sports bet wagers. In fact, some people might see this as more than enough. However, enthusiasts wanted something outside of the normal sports matches. An example is eSports games that are growing in popularity among millennial players.
With the old sportsbook already replaced with the state-of the-art Bitcoin sportsbook, mBit Casino is in a better position to take on the exciting world of Bitcoin gambling.