When 2016 began, NetEnt started off its NetEnt rocks campaign with the release of a surefire hit: the Guns N Roses slot game. NetEnt brought its extensive technical skill to bear on the game and the developer delivered. The Guns N Roses slot game was a joy to play for everyone who tried it out, even those who were not fans of the band.
The initial hit was followed up by another: the Jimi Hendrix slot game. Though it did not feature as much video and music as the Guns N Roses slot game, the Jimi Hendrix slot game still managed to make people feel the Hendrix experience. NetEnt did not stop there, though. The company is finishing up on the last part of its rock-and-roll trilogy and plans to release another favorite to the masses. This time it is the Motorhead slot game.
Hard rock heavyweights
Motorhead is one of heavy metal's big names. Formed in 1975, the band has been a constant presence in the heavy metal scene since then. Some even say that the band invented heavy metal out of the ashes of 70s progressive rock. The band specialized in a fast and raucous sound that was mostly classified as heavy metal but also brought in elements of punk rock, trash metal, and speed metal.
Fronted by the legendary Lemmy Kilmister, the band has had a string of hits since its inception. The band itself is named after one of its initial releases which became a hit single. Other hit singles include Ace of Spades and Overkill. They also had several hit albums and were constantly on tour. Composed of three band members, Lemmy was the only constant member of the band through the years.
Unfortunately, all good things come to an end. Last year, Lemmy Kilmister passed away from cancer. The remaining members felt that without Lemmy, Motorhead would not be the same, which is why the band officially broke up.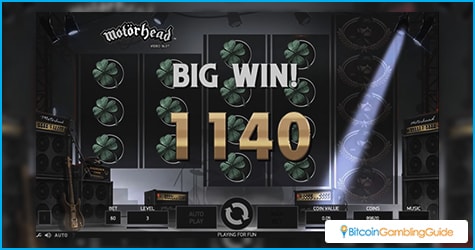 Bring the music to life
The band may be gone, but the music lives on. NetEnt acquired the rights to the Motorhead brand for use in a slot game early this year. The company has been hard at work since then to deliver the Motorhead experience to players and they are about to do so. The company recently released a trailer of the game and it is looking good.
The game looks similar to the Guns N Roses slot game, with live video and music taken from Motorhead performances being featured in the game. The hit single Ace of Spades is played throughout and the gameplay is looking to be unique with its asymmetrical grid. With just this sneak peek, people can be assured that this game will be a fun experience.