The legend of Atlantis is one of the world's most popular myths. The legendary island's sinking into the Atlantic Ocean is well-known to many people. This is why it has become the subject of a lot of pop culture products like movies and books. NetEnt is just the latest with its newest slot game offering: Secrets of Atlantis. Made with NetEnt's trademark craftsmanship, their newest product is sure to be good for several hours of play.
Great graphics and sound
One of the big attractions of Secrets of Atlantis is the fact that it looks great. NetEnt has certainly spared no expense in delivering a pleasing game experience. The game's graphics look great. Since it is all about a sunken island, the design used emphasized an underwater theme.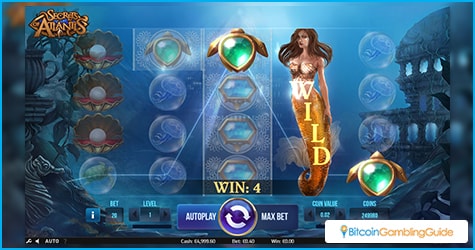 This means using a background of the seafloor, with the ruins of Atlantis clearly visible. The game itself continues the theme, with symbols of magnificent jewels and an oyster being a common sight. There is even a special symbol of a beautiful mermaid as the game's Wild symbol.
Graphics alone is not the only attractive element about Secrets of Atlantis. The game's music is also very important. In line with the mysterious theme, Secrets of Atlantis has a mystical-sounding soundtrack. It can be entrancing and relaxing at times, while also hinting at a bit mystery.
Amusing gameplay
As for its gameplay, Secrets of Atlantis manages to deliver a unique one. Using a five-by-four reel structure, this is combined with a 40-payline count. Like most modern slots, it traces its winning combinations from left to right. It also has some of the basic bonuses like getting additional rewards and more. With 40 paylines active, there are more chances of winning with this slot game.
There are some unique features, though. One of these is its Wild Symbol. The mermaid will act as any other symbol to complete a combination. The difference for this game is that if any part of the mermaid is visible, the reel will move so that the symbol will fully cover it. If the first and last reels are wilds, this will activate the highlight feature.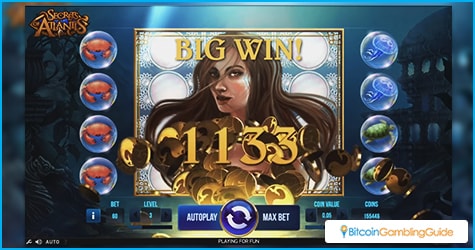 This means that the middle three reels will combine into one symbol and players get a free spin. The result of the spin can range from bigger jackpots to even more respins. At its highest, players can expect their bets to be multiplied by 1,600, which is a very impressive number.
Overall, people will be pleased with the latest offering from NetEnt. Interested players should be able to try the game out at NetEnt casinos like BitStarz and other Bitcoin casinos running on SoftSwiss. Secrets of Atlantis slot is sure to be a great hit as players seek to uncover what happened to the mysterious island.