Chainroll may be a newcomer in the online betting scene, but Bitcoin dice sites should keep a closer eye on it.
With barely two months in the business, this new dice game has already received hundreds of BTC bets. Its records show that more than 780 BTC have been wagered from a total of 83,590 bets as of writing.
These numbers are significantly lower when compared with those of the more established dice sites, but they are definitely remarkable for a starter.
More traction is expected in the weeks to come as the dice site underwent a major change that may just be the ticket to its big break in the industry.
'Not on-chain anymore'
Earlier this month, Chainroll decided to modify its betting system by moving off-chain.
It initially launched as an on-chain dice game, which enabled bettors to directly place bets and receive payouts without any involvement from the website.
However, the management experienced several challenges, which had resulted in problems that may hamper the operation in the long run.
According to Chainroll:
"We struggled with big transaction fees both on our side and on the player side, double spend attacks, and poor affiliate system."
Hosting its engine off the blockchain now enabled the operators to resolve the situation and create a friendlier betting process.
As an effect, players now have to register an account in order to deposit without having to pay fees. Withdrawals, however, still charge a 0.0001 BTC transaction fee.
Armed with player-friendly features
The new Bitcoin dice Chainroll has several characteristics that easily make it a strong competitor on the market.
For one, its modern betting interface earned the thumbs up from the players, who appreciated the design aesthetics used across the site. They also praised the minimalist and contemporary approach the site took, which, according to them, match the simplicity of the dice game.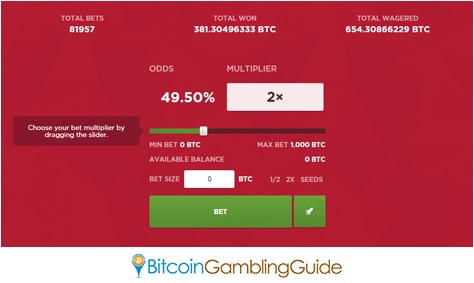 Enveloped within its visually gratifying platform is its user-friendly dice game, which is another factor behind the dice site's appeal.
This Bitcoin dice is not the typical Roll Hi, Roll Lo setup, though, but it is one of the online dice solutions that have quickly become the latest trend in this niche.
According to the bettors, they are mostly satisfied with the game, especially with its one-percent house edge.
Moreover, Chainroll, one of the Bitcoin gambling sites accepting US players, uses the latest technology to ensure that even mobile bettors will still access its game without any trouble, thereby developing a mobile interface.
More bets, more incentives
Even if Chainroll is a new Bitcoin dice site, it has developed a reward system that will also be instrumental to its goal of becoming among the top dice games online.
It currently offers a free Bitcoin faucet that pays 1 bit per hour, along with a great affiliate program. More bonuses will be launched on the site too, paired with high wins. These two can be easily acquired with the right Bitcoin dice strategy.