There is no such thing as a boring day in the life of a Bitcoin bettor. With the European Championship football behind us, and the US Open coming to a close, it is time to look ahead at the next sporting event. The 2016-2017 NFL season will kick off on Sept. 9 with Denver Broncos vs. Carolina Panthers, and various betting platforms are showing some interesting odds. Who will advance to the playoffs and win the Super Bowl this year?
Can the Broncos pull off another upset?
Although most people think of the NFL as a sport only Americans and Canadians are interested in, the reality is very different. American football is one of those sports that transcend country borders and religion, a sit brings millions of people around the world together. All of the eyes will be on these amazing teams with gifted athletes for another season of bone-crunching tackles and laser-precision passes.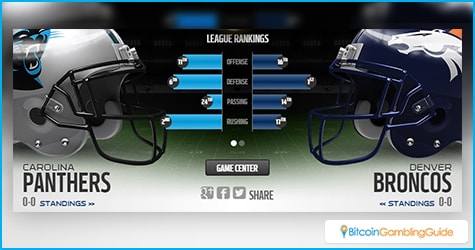 With the new NFL season on the horizon, Bitcoin betting odds are the main focus right now. At the same time, it is important to remember there is hardly a thing such as sustained success when it comes to American football. Many Super Bowl winning teams have struggled the season(s) after their victory.
On the opening day, we will have Denver hosting Carolina. This fixture is quite an intriguing one, as both team duked it out in the previous Super Bowl. After a great game, the Denver Broncos took the rings home with a 10-24 victory. A lot of people were surprised, as the Carolina Panthers were the clear favorites to win that game. Sport is a beautiful thing, and there are never guarantees of a victory until the final whistle blows.
Whether or not Denver will be able to hold off Carolina in this opening fixture remains to be seen. The first match of a new season is always a bit rough, and should by no means be seen as an indicator for the rest of the season. Then again, it is safe to assume both teams are very hungry to win this game, and put the rest of the league on notice.
Betting odds seem to favor the Carolina Panthers once again. DirectBet has Carolina at 1.52, whilst Denver is at 2.48. Nitrogen Sports seems to slightly favor the Panthers, although most people did so during Super Bowl 50 as well. Over on Cloudbet, the odds are clearly in favor of Carolina once again.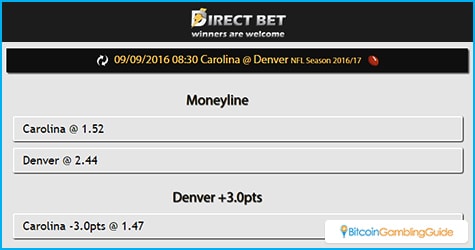 First week of NFL games will be a nailbiter
But there are plenty of other games to look forward to as well. The Green Bay packers will face a stiff challenge playing the Jacksonville Jaguars on Sunday. Buffalo fans will hope this is the year their team finally shows some more promise, albeit they will have to get past Baltimore first. One thing is for sure: a lot of eyes will on the New York Giants vs Dallas Cowboys game. Odds for that event are nearly even for both teams, which is very unusual.