eSports betting has become more in demand in recent years as more and more eSports events have begun to see increased popularity. Several sportsbooks have already taken the first step in promoting eSports and is best seen in Nitrogen Sports eSpots betting.
One of the best online sportsbooks out there, Nitrogen Sports offers great odds and a wide variety of sporting events to place bets on. Combined with competitive odds and the use of Bitcoin, the site is a great betting venue. Recently, to encourage further eSports betting, the site has offered an interesting parlay bet promo.
Parlay bet promo
This weekend, two major eSports events will be going on. There is the Intel Extreme Masters Oakland leg in Oakland, CA, which is for Counter-Strike: GO and League of Legends, and the DotA Summit in Los Angeles, CA, which is for DotA 2. Nitrogen Sports is offering a betting promo for these two events.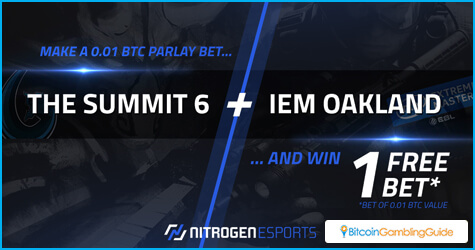 All that a bettor needs to do is to make a two-bet parlay involving at least one leg of each tournament. Once placed, bettors would soon receive a free bet to use for any event feature on the Bitcoin sports betting site.
The promo requires players to create a bet slip that contains a parlay bet of a minimum of two bets. These bets must be on one leg of IEM Oakland and one leg of the DotA Summit. A minimum bet of 0.01 BTC must be made for the promo to be valid. After the bet slip is made, bettors must share it on Twitter or email it to the marketing arm of Nitrogen Sports.
There are some additional rules. For example, there can be only one entry per household per day. Additionally, the maximum free bets that can be received from this eSports promotion is one. Finally, users must send or share the slip by Sunday, Nov. 20.
IEM and The Summit
The two eSports events happening over the weekend are important. The IEM event is just a part of a series of worldwide tournaments sponsored by Intel, bringing together some of the world's best players in CS:GO and League of Legends.
The IEM tournament series itself is a big part of eSports history, with its decade-long record of epic games and thrilling finales. With viewers and participants from over 180 countries, the Intel Extreme Masters is a truly global event. The Oakland leg for this weekend will be held in the Oracle Arena, one of the most prestigious sports venues in the US.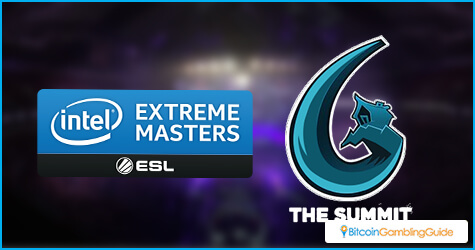 The DotA Summit is the other eSports event happening this weekend and is being held in Los Angeles. The first two days were done in the early part of the week, but the finals will fall solidly this Sunday, Nov. 20. With some of the best teams in the world like Wings Gaming and Digital Chaos participating and a $100,000 prize pool, Summit 6 is looking to be another success.
Experienced eSports bettors and newbies will appreciate the chance to wager on these two events. Hopefully, Nitrogen Sports continues its support of eSports in the future.