Nitrogen Sports further secures its popularity in the Bitcoin gambling industry with the introduction of the newest additions to its list of betting services.
Bouncing back from the hacking controversy in October last year, this Bitcoin sports betting site is going full force in providing an improved gambling experience this 2015.
Super Bowl activates live line betting
First on its list is the live line betting feature, which will be primarily and exclusively offered for the highly anticipated sporting event on the American football scene, the Super Bowl XLIX match.
The Super Bowl live betting will allow Nitrogen Sports bettors to place their bets for the first time during the game. This will also serve as the preview of what is to come with the official launch of the live betting feature across its covered sporting events.
The management of the bookie, however, reiterated that the live betting service launched later this year may be different from the one used for the Super Bowl match.
Super Bowl XLIX will see action between the New England Patriots and the Seattle Seahawks on Feb. 1 at the University of Phoenix Stadium in Glendale, Arizona.
More features will be rolled out in conjunction with the biggest football event in the US, and these may include the Nitrogen Sports Super Bowl promotions.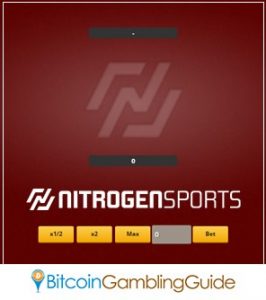 Blackjack debuts as the second card game
Also available on this sports betting platform is Bitcoin blackjack, making it the second casino card game to poker that will be hosted on the website. Unlike the Nitrogen Sports Poker, however, the blackjack game was developed in-house using the technology and expertise provided by its team.
Moreover, it is designed to accommodate a variety of players in terms of level and bankroll since the game registers a minimum bet of 0.0001 BTC and a maximum bet of 1 BTC. It is also provably fair, but the game accepts Bitcoin only.
Big plans set to be unveiled this year
With Bitcoin blackjack marked as the first of the future releases this 2015, Nitrogen Sports is bound to release more improvements and surprises in the next months.
The final version of the live betting platform is also scheduled to be launched, together with several more provably fair Bitcoin casino games and other Bitcoin gambling products like the Nitrogen Dice game.