Bitcoin may be the world's most well-known cryptocurrency, but it is still not a household word. Primarily known to a dedicated following, the cryptocurrency has admittedly made waves in the financial and economic world. The final goal, though, is to make Bitcoin a legitimate alternative to fiat currency.
This is why Bitcoin advocates are always pushing for increased Bitcoin acceptance and usage. Online gambling is one of the more effective ways to popularize Bitcoin and it has worked. However, Bitcoin needs an approach that is more conventional. That is where PC gaming comes in.
PC gaming is a big business, with billions of revenue each year. If Bitcoin was used in transactions for the gaming industry, even a small fraction, then it would have an increased profile. Additionally, being used for gaming makes it more acceptable than when it is used for gambling purposes. This is why the fact that Bitcoin can now be used to pre-order, No Man's Sky, this year's most anticipated game, is a huge win for Bitcoin advocates, even avid online casino and sports bettors.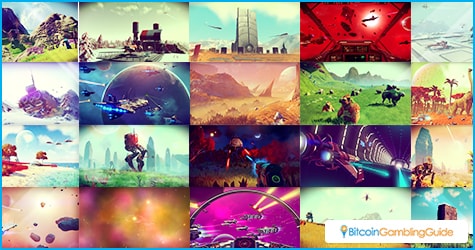 2016's most awaited game
To understand why this is so important, people will need some background about No Man's Sky. Hype about the game started a couple of years ago in 2014 when the first trailers about the game came out at E3.
A lot of people were entranced by its basic concept: as a planetary explorer in an unexplored universe, the players' job is to survey the entire universe and to deliver the information to the Atlas. The gameplay is primarily that of an open-world survival game as the players go from planet to planet, seeking to learn what each has to offer, while contending with the dangers of space and planetary travel.
The game is ambitious in scope. It plans to procedurally-generate a universe for players to explore using a 64-bit seed. This will result in 18 quintillion planets from the algorithm used. When players connect to the server, their discoveries are registered and players can share coordinates to specific planets. This means players can play both offline and online. It is estimated by developers that around 90 percent of the universe will remain unexplored no matter how many players there are.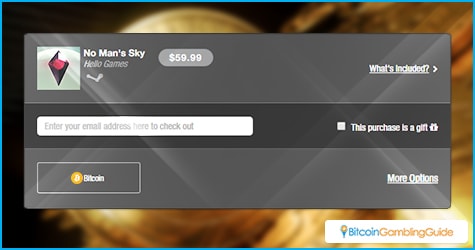 Bitcoin acceptance
After two years of work, the game itself is nearing release. Slated for an August release, people can now begin to pre-order the game on the Steam distribution platform. One of the payment options available for the pre-order is Bitcoin. This gives the cryptocurrency a lot of exposure since Steam has over 125 million subscribers. With people seeking to buy this year's big game, they will get to see the Bitcoin payment option. As a legitimate way to buy the game, this will give Bitcoin a more mainstream feel.
This entry into the common market continues the trend of Bitcoin being more dependent on more legitimate revenue streams. This can only be a good sign about Bitcoin's general acceptance.