The Rio Olympics is one of the year's biggest sporting events. Featuring 28 sporting events ranging from gymnastics to volleyball, a lot of sports fans can also make wagers on the possible results, whether on tennis, football, or even in track and field. In fact, US basketball fans are putting their money where their mouth is by placing bets on the US Men's Basketball Team. With the team having an 89-percent chance of winning, this is a good idea.
However, sports bets are just one facet of the betting fever that the Olympics can cause. People often place wagers on the strangest of subjects. Besides betting on who will win, some Olympic bettors can place quite a few crazy bets. This can include how many medals a certain athlete can win or whether the Olympic flame will go out.
Novelty betting
With the world's laser-like focus on the Rio 2016 Olympics, a lot of people can notice the details that go into running this year's Olympics. This can range from positive to negative. For instance, a lot of people have noticed that the Rio organizers have had problems with keeping the infrastructure in top-notch. This has resulted in complaints and quite a few problems.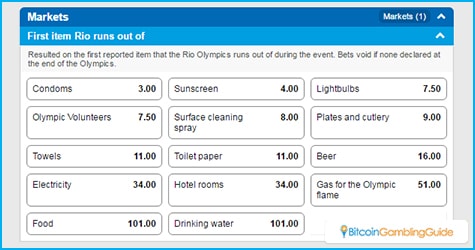 This has resulted in people making wagers on the various topics besides the result of the sports events. Quite a few sportsbooks out there have put up odds for novelty or special bets to be wagered. This is not a new idea as people made novelty bets for years.
Only done as outright bets and will only payout if the wager is correct, novelty bets can potentially have a large payout. Not all sportsbooks offer these, so it can be difficult to place a wager. Fortunately, online sports books can be easily found to bring the best odds on these novelty bets.
Prime betting choices
These online sportsbooks also offer their choice of novelty bets. One of the interesting novelty bets out there is the one concerning which supply will the Olympics committee run out of first. Condoms are the primary favorite, while the second favorite is sunscreen. Considering Rio's fun atmosphere and the bright beaches, a lot of people may want to have a little bit of fun and they will need quite a bit of protection when dealing with the people in some places.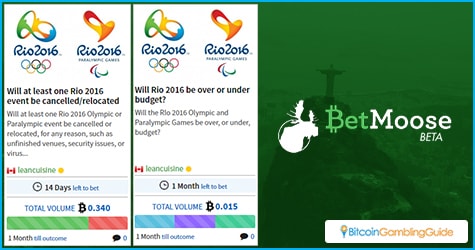 Another favorite topic of novelty bets is whether one of the events will be cancelled or something similar. With the unfinished venues and other factors against some sports, people are already thinking that one of the events will need to be cancelled. That is not all, though. Some novelty bets are about whether the Olympics will be under or over budget. A lot are favoring the latter as reports are filed on what needs to be done to make this year's Olympics successful.
Sports bettors who want to add a little spice to their betting slips should consider placing a wager on one or two of these novelty bets. Not only it is entertaining, it can also give them a large payoff in the end.