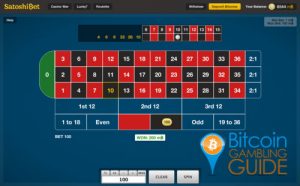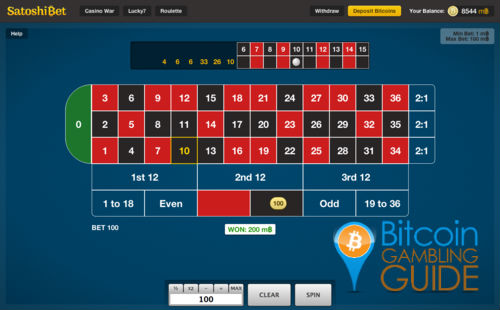 (Published 8/15/2013) 'Give it a Whirl!' – This is SatoshiBet's invitation as their latest addition has finally been unveiled, their newest game, Roulette. It is a single-zero bitcoin Roulette game which is 'completely Provably Fair' and can be played directly to the browser; hence, the hassle of downloading is not required. With these features, SatoshiBet's Roulette is expected to attract more players to give it a spin.
SatoshiBet is a well-known Bitcoin Casino that can be played straight in the players' browser since it utilizes HTML5 technology. More than that, good highlights such as complete anonymity since it has 'no account required' feature, no downloads required, as well as instant deposits must have contributed a lot for its increasing popularity. And with Roulette as their newest addition, it is definitely another thing that will give more fame to this bitcoin casino.
The card game Casino War as well as Lucky 7 Bitcoin Slot Machine are the first two games offered in this brand. With a good percentage of RTP (Return To Player) and full transparency as well as security since both are certified 'Provably Fair', both of these games easily established their names as great and incredible games offered in the domain of bitcoin betting. And since Roulette is joining the team, not only the same highlights but a lot more good features are expected for this wheel to showcase.
SatoshiBet's Roulette can be played in two modes, the 'Play for Bitcoin' mode and 'Practice Mode'. With this, players are given the chance to have a good grasp of the game by switching to the latter to spin for free. If they are ready for the real game to earn bitcoins, they can easily switch to the 'Play for Bitcoin' mode. The minimum bet in this bitcoin game is 0.001 BTC and the maximum is 3 BTC.
Two options are given for the players to make deposits. First is by sending the required amount of bitcoins to the wallet address provided, or by simply scanning the QR code given. Since this brand has 'instant deposit' feature, confirmation is not needed since the deposit will automatically sync with the player's balance.
Furthermore, in SatoshiBet's Roulette, players will not see the typical Roulette wheel that will determine their fortune. With the Roulette Table is the rectangular board that seems to spin every time the player clicks the 'Spin' button. With this new feature, their Roulette game appears simple and easier to play as well as gain a win.
With this SatoshiBet's newest game, players will definitely be encouraged to try and enjoy the highlights and features this brand offers. With a Card game, Machine Game, and the latest Table game, SatoshiBet can sure be considered a full Bitcoin Casino. Click here to find out more about Satoshibet.