UEFA Champions League 2017 returns this week with Arsenal playing against Bayern Munich, along with other matches between Napoli and Real Madrid, Dortmund and Benfica, and Barcelona and Paris SG.
The one that fans are looking forward to this week's line-up is the match of Arsenal and Bayern Munich, as well as Napoli vs Real Madrid. If Bitcoin sportsbook odds are any indication of what to expect this Wednesday, it shows a very close match between the four teams.
Sportsbook odds
Sportsbooks are giving the German foot club the highest odds for the match between Arsenal and Bayern Munich. At Sportsbet.io, Arsenal has 3.08 odds of winning while Bayern Munich has 2.20.  The sportsbook is also giving 3.69 odds for a tie.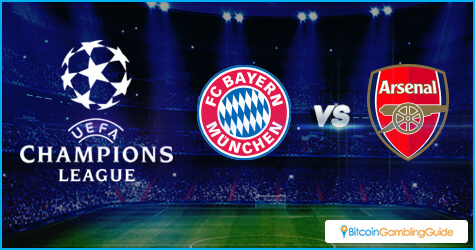 For the second match, Bitcoin sports betting sites are slightly favoring the Spanish football club. DirectBet is giving Real Madrid 2.32 odds and Napoli 2.68. The odds are incredibly tight for both football teams. The sportsbook site is giving 3.55 odds on a draw for the match.
For the matches on Thursday, Barcelona and Dortmund are the clear favorites for the two matches. At 1xBit, Dortmund has 1.34 odds of winning while Benfica has 10 odds during the two team's match. Nitrogen Sports, on the other hand, sees Barcelona to fight with -236 odds against Paris Saint-Germain with +635 odds.
Wednesday matches
The first game between Bayern Munich and Arsenal was a 4-1 match. With the exclusion of Sanchez's goal on half time, the Gunners hardly looked hungry during the first game. Bayern's win in the first game gives the team less pressure come the Wednesday match.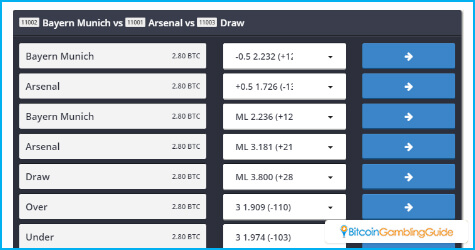 For the second game, Arsenal still has a good chance of winning if the team will be more aggressive. If the team is not careful, Bayern Munich could exploit any gaps the gunners might make with an offensive charge. With the points in favor with Bayern, the gunners might have no choice but to risk it all to get a win on Wednesday.
The second leg between Real Madrid and Napoli is another close match between the two. Real Madrid is the defending champion. The team is set for another seventh appearance in the semi-finals. If the team's stats are anything to go by, the Italian team should be on its toes for the second leg.
On the other hand, Napoli has a number of aspects that make them a threat against Spain's sports club. One of which is Maurizio Sarri who won 12 matches out of 18 games in all competitions. The rest were all draws. Real Madrid and Napoli have many things going for the two teams. This makes the upcoming Wednesday match a close one for both teams.