UPDATE: Response from Nick Garner, CEO of Oshi.io, was added to the article.
Oshi Bitcoin Casino is going full speed in providing a complete online casino experience. But one complaint filed early this month rocked its rather smooth transition to becoming one of the competent Bitcoin casinos today.
A player using the alias h0p3less21 and HOP3LESS made public online his troubles with cashing out bitcoin from his account at Oshi.io. According to his posts, Oshi closed his account after he requested to withdraw 4.6 BTC from his account.
A self-confessed high roller, he narrated how he had initially deposited 4 BTC and had some gains and losses. He then made small cashout requests until he finally decided to clear his account. However, he was surprised to find out that he could no longer access his Oshi account and was later told that his withdrawal would be manually processed instead.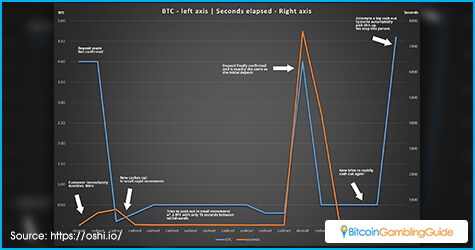 An unexpected turn of events followed when Oshi Bitcoin Casino revealed that the player was trying to cheat the casino using a method coined as double spending. This therefore forced them to decline to pay his requested amount in full.
Unusual payment pattern alarmed Oshi.io
They call it the double spend attack, and—as Nick Garner, CEO and founder of Oshi.io, had revealed—it involves players successfully spending their bankroll more than once. He disclosed that Bitcoin casinos that allow their players to withdraw funds right after winning even without a network confirmation are the usual targets of this new scam.
Oshi Bitcoin Casino, upon noticing the suspicious pattern, immediately flagged the account as a precautionary measure to prevent players like the complainant from abusing the casino's user-friendly system.
Nick Garner told BitcoinGG:
"Having done an investigation on the guy mentioned in your article, it turns out he's actually taken us for 2 Bitcoins…Double spend attacks had been a problem in the first week of this month and had dented profitability, but we closed the loophole and profits have bounced back to healthy levels."
He also provided a graph that details the actions taken by the complainant, who was revealed to have tried making small withdrawals in increments of 0.5 BTC in every 15 seconds before the deposit was confirmed.
The unusual pattern instantly satisfied the criteria given to determine a double spend attack. But the player in question refused to accept Garner's explanation, calling the casino a fraud instead.
Questions about Oshi's credibility surfaced
During the heated exchange between Garner and the player, many points were raised that question the authenticity and reputation of Oshi Bitcoin Casino.
Doubts were casted even more after Garner had revealed that his casino was in loss for the month of October. This only fueled speculations that Oshi.io simply refused to pay because of insufficient funds, and that it is shutting down.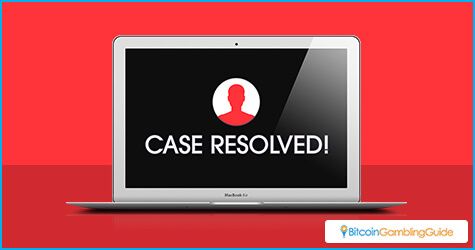 Nick Garner's active presence in resolving the matter dampens speculations that Oshi.io is one of the Bitcoin casinos not to be trusted. The mere fact that a CEO communicates with players shows his dedication in creating a friendly platform for Bitcoin players.
Meanwhile, his firm stand regarding the issue of double spend attack demonstrated his position in ensuring a secure Bitcoin casino that forwards the satisfaction and safety of the players and of Oshi Bitcoin Casino.
Garner added:
"As you can see, you know who I am, you can find me on Google and you can reach out to me. You also know that Oshi is accountable for its actions as a legitimate business. We make a point of being transparent and accountable, because we care about the trust people give us. How many other owners of Bitcoin casinos do you know? I'm sure it's probably none. And do you know who this scammer really is? No."
Oshi.io already agreed to return the player's initial deposit of 4 BTC but maintained that the requested withdrawal amount of 4.6 BTC would not be processed.