Online poker's biggest tournament series is coming back this December. The 8th Online Super Series or OSS VIII will be held at Americas Cardroom from Dec. 7 to 18. This is a great addition to what the Bitcoin poker site is able to offer online poker players. The site already holds regular tournaments, but adding even more will be a great pre-Christmas treat for players.
8th Online Super Series
The last time Americas Cardroom held the Online Super Series was last September. It was part of a super promo for three consecutive tournament series. OSS VII had more than 70 events comprising the series and had two big tables. The first was a $300,000 GTD tourney and the second was the ever-popular $1,000,000 GTD Million Dollar Main Event. The Million Dollar Main Event had a high buy-in price, but players could also get a seat by joining one of the many satellite events available.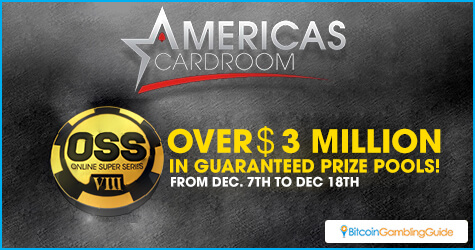 The operators of the OSS know when not to mess with something that is not broken. This time around, OSS VIII will have over 76 events, starting with a $100,000 GTD tourney. There will also be a $1,000,000 Main Event table on the last day, with the buy-in set at $540. Satellite events will be held to give those who want a shot at the million dollars a chance a seat at the table.
Moreover, there will be a variety of game types represented in the tourney. This includes Texas Holdem, Pot-Limit Omaha and PLO8 games. With buy-ins starting at just above a dollar, there will be enough chances for people to participate. Considering how successful the last OSS was, interested players will be facing some tough competition.
What to expect
For those who are just beginning their poker career, the OSS is a nice way to start. A moderately skilled player with a decent bankroll can come out with a decent profit if they played their cards right. This is thanks to the large number of diverse events available. With the multiple tournaments running, there is sure to be a game that would be a good fit for any player.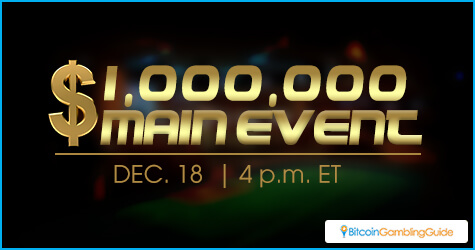 Here are a couple of examples of popular tournament formats players will encounter in the OSS. First, there is the "turbo" format. There are "turbo" and "hyper turbo" tournaments in the event. They work by having a timer determine when the blinds are raised. This means that the stakes keep getting higher in a quick manner. The result is that games usually finish quickly as blinds become big enough to require a player's entire stash of chips.
Another format is the Superstack format. Playing in this tournament is the opposite of the turbo style, with players holding more chips and blinds going up more slowly. The games at these tables are slower and more strategic. They can also be more forgiving to newer players.
With the OSS fast approaching, interested players will want to hone their skills. Large jackpots are waiting for skilled poker lovers this December.