The Championships will once again take center stage and witness players from across the world smash and swing their rackets to outplay their opponents en route to the top spot.
In just a few days, the familiar names of the veterans and newcomers in the world of tennis will gather in London for the two-week run of this year's Wimbledon, starting on Monday, June 27.
While it is still days from now, some of the sports betting sites have already released the outright bets for Wimbledon, pegging certain players to emerge at the top of the rankings. While the pre-match betting odds are yet to be posted as of writing, tennis fans and sports bettors can already place bets on their predictions as early as now.
Familiar names top the list
With the recently concluded Roland Garros, Bitcoin sportsbook Anonibet forecasts Serena Williams and Garbine Muguruza to reach the finals for the women's division; and Novak Djokovic and Andy Murray for the men's division.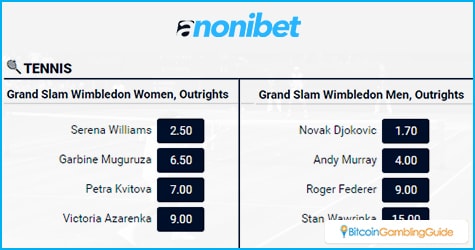 Williams and Muguruza played against each other in the French Open finals early this month, with the Spaniard taking the Cope Suzanna Lengle. Despite William's loss, however, Anonibet placed the American ace player at the top, seeing her potential to make an impressive comeback after her sorry loss on clay.
With a 6.50 odds, Muguruza comes in second and is followed by Petra Kvitova and Victoria Azarenka. Bettors who believe Muguruza can pull a grand slam will receive a better payout as compared to wagering bitcoins on Williams.
Sports bettors who wish to be at the advantage, however, should consider the fact that the French Open champion does not like playing on grass—something Williams is more comfortable with.
Meanwhile for the men's, Murray bowed to Djokovic in four sets, and this is the reason the British player settles for the second spot at 4.00. Djokovic remains to be expected to dominate Wimbledon with 1.70 odds, especially when Rafael Nadal opted to skip The Championships due to a wrist injury.
The top two players, however, will likely be challenged by Roger Federer and Stand Wawrinka, who came in at third and fourth with 9.00 and 15.00 odds from Anonibet.
Intense matches ahead
The first round is set to happen in less than a week, and the Bitcoin sports betting sites should be rolling out their pre-match betting odds soon. Moreover, bettors can look out for outright and special bets that will extend the options to wager on.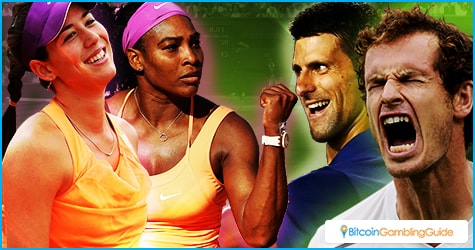 Wagering on the outright bets from Anonibet would be a wise decision in order to fully maximize the winning potential in Bitcoin betting on tennis. This, along with the pre-match and even the live bets, should be reason enough to get the ball rolling for betting on Wimbledon.