On 10 December 2014, Microsoft made an announcement that many were not expecting, at least not at that time. The company was allowing its customers to purchase digital content in Xbox' and Windows' stores using Bitcoin.
This step has made the world's leading computing corporation one of the biggest tech companies ever to embrace Bitcoin. It joins the likes of WordPress, Overstock and Amazon in spotting the now widely recognizable tag of 'Bitcoin Accepted Here!'
And this has driven enthusiasts around the globe into frenzy.
However, the question that becomes almost inevitable to ask is whether the Bitcoin community, including the Bitcoin gambling aficionados, is overreacting to this news.
Is it a critical but minor step?
Many have seen this development as an enormous and significant validation that will contribute greatly toward generating confidence in Bitcoin and other crypto coins.
Nevertheless, this is not the first positive gesture to come from the direction of Microsoft. In the month of October, its co-founder, Bill Gates, had described the digital currency as an exciting financial solution even with the challenges it faces.
A critical look at company's adoption of Bitcoin as one of its payment methods, however, makes it apparent that it is a crucial step but a minor one at that.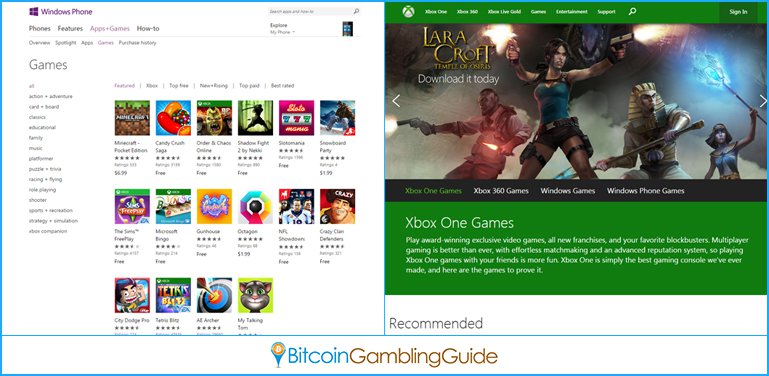 This is true given that Microsoft isn't going to generate a Bitcoin wallet into which it will receive any bitcoins.
At least in the beginning, any payments that customers make for the products and services earmarked will go through Bitpay, a Bitcoin payment processor. This effectively means that on its end, the company will continue receiving its revenues in dollars and other traditional currencies.
Microsoft, like many other brands, is still waiting
If we stick to this single point of view, then Microsoft only found it necessary to include Bitcoin as one of its payment methods just to make it more convenient for its customers. And on its part, it still unsure whether it is a good idea to receive, keep and spend Bitcoins as a brand.
Nevertheless, it is safe to state that while the Bitcoin community could have overreacted, this development is an endorsement that lays the ground for major things to come in the near future. For instance, the development of several Bitcoin markets, including the maturing Bitcoin casino niche.
And following this it is not unlikely that companies like Google and Facebook are consideration whether they should jump on the bandwagon, at least in giving their customers expanded options for making payments.
In addition, going forward more individuals and small brands will have more courage in accepting crypto coins since the places where they can spend them are increasing each passing day.
Another influence Microsoft's decision is likely to have is putting pressure on entities that have taken the strategy of fighting crypto coins to abandon or rethink their stance on the digital currency.
Therefore, this move cannot be underestimated as a step towards bringing Bitcoin into the mainstream. Even if Microsoft does not find Bitcoin attractive enough to receive and spend, it has given the crypto currency validation and legitimacy that raises its stakes even higher.