It has been a roller-coaster ride for Pinnacle this year. In the middle of the year, the online sportsbook underwent a major overhaul in its branding. It was also accompanied by a few changes for the sportsbooks that improved its look in several areas like its affiliates, casino, and also its eSports offerings. The recent Pinnacle rebranding seems to be worth it as the online sportsbook managed to score two wins this year.
Dual win for eSports category
Surprisingly, the awards that that Pinnacle won were both for the same category: eSports Operator of the Year. This is a good sign considering how new the category is. It debuted just this year, as the increasing importance of eSports betting is being felt.
The first award where Pinnacle wins eSports Operator of the Year award is from the EGR 2016 Operator Awards. Known as the Academy Awards of online gambling, this event brings together some of the best and brightest in the industry.
Harry Lang, Marketing Director at Pinnacle, was pleased with the award:
"We've invested a massive amount of time and effort to become a leader in the eSports betting field, so this recognition is greatly appreciated. We're happy that Pinnacle is still seen as the front-runner in eSports betting and we hope to maintain this position in the future."
A couple of weeks later, Pinnacle managed to win once again. This time it was at the 2016 Sports Betting Community Awards. Held last Dec. 7, it was the culmination of a banner year for the sports betting world and giving away an eSports Operator of the Year award is a good sign that the community is looking toward the future.
Marco Blume, Trading Director at Pinnacle said: "Being awarded our second award for eSports Operator of the Year in as many weeks is a great validation of the effort we've invested in eSports betting since 2010. Back then, there was no market for it whatsoever but we had a vision, backed ourselves and now eSports betting is a bigger category for Pinnacle than Ice Hockey. From here, the sky's the limit for eSports betting at Pinnacle".
Top factors behind the success in eSports
Pinnacle definitely deserves these awards for the effort it has put into being an innovative online sports betting venue, especially for eSports. First, the site makes it easy for people to pay. With a wide range of payment processors available, it can take payments from anywhere in the world and in a variety of currencies. Even Bitcoin eSports bettors can join in the action since NETELLER allows for Bitcoin deposits and exchanges.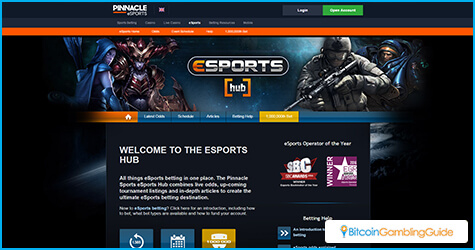 Second, Pinnacle never tries to limit its players. It has a lot of betting options available, while also giving great odds for anyone who wants to wager. There are also no limits on how much people can bet, and it offers promotions like the Pinnacle VIP tickets to Premier League.
Finally, Pinnacle provides an excellent betting experience for everyone who drops by. Signing up is a breeze and placing bets is no problem. All that a player has to think about is who they want to bet on and how much. Pinnacle deserves its dual win and it is a good sign for the future of eSports betting.