As a Bitcoin bettor, obtaining cryptocurrency is the first step in the process. Rather than just using the first exchange platform one comes across, comparing the pricing and services offered can make a difference. Unichange, a new peer-to-peer exchange provider for cryptocurrency, wants to provide users with the best options so they get the most bang for the buck.
What Unichange does differently compared to exchanges
The Unichange platform was announced in 2013, and is designed to develop a positive customer experience. Since every cryptocurrency exchange in the world has its own exchange rate, finding the best price becomes even more important for Bitcoin bettors and traders. This also introduces arbitrage opportunities for those looking to buy Bitcoin cheaper at one platform, and sell it for a [small] profit somewhere else.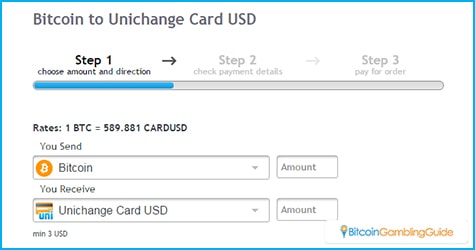 With the number of Bitcoin exchanges continuing to grow, it is difficult for traders and bettors to get the most bang for their buck. Comparing different exchange rates is not overly difficult, although very few platforms have prices listed from every exchange available. Unichange wants to provide users with all of the information they need to make a carefully weighed decision.
Most bettors and traders will rely on using bigger exchanges, as they appear to be more trustworthy.
As we covered in a previous article, buying Bitcoin can be done through many different payment methods. Bank transfers are the most commonly used method, despite requiring personal verification. Additionally, there are also additional banking fees—and sometimes even conversion fees—to take into account.
Unichange wants to provide an alternative way to fund Bitcoin wallets. Peer-to-peer exchange providers such as Unichange will introduce additional payment and withdrawal options. Moreover, cooperation with P2P exchange providers will result in better security, and large reserves of digital currency. All of this is favoring Bitcoin bettors, traders, and speculators.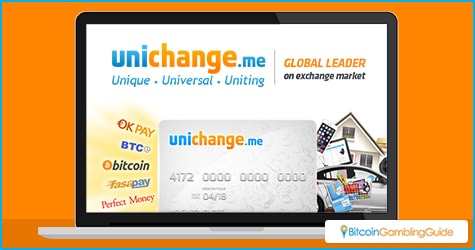 By acting as one of these P2P exchange providers, Unichange wants to make a name for itself in the Bitcoin world moving forward. They support multiple electronic currencies, and have enabled support for BTC-E already. Withdrawal options range from PayPal—in USD—to JustForex, perfect Money, and Western Union. This platform is appealing to bettors and traders looking to convert to and from Bitcoin, as it never hurts to have multiple options at one's disposal.
Furthermore, there is also a debit card available to Unichange users. This card can be obtained in both physical and virtual form, giving Unichange users a wider range of withdrawal options. Payment cards are accepted at millions of locations around the world, presenting an exciting way to convert Bitcoin earnings and winnings into spendable currency at mainstream locations. Lifting the limits on these cards will still require identity verification, though.