The Bitcoin gambling industry frequently sees betting websites come and go, but one casino proves its commitment to continue providing entertainment as it reaches its second year in the business.
Pocket Rockets Casino is currently celebrating its anniversary and is giving all its new and old customers equal opportunities to get their hands on the attractive prizes in store.
One of the longest-running Bitcoin casinos on the market, this website has put up three major prizes for three lucky players. One fortunate winner for each of its games—dice, roulette, and blackjack—can take home an nVidia Shield gaming tablet, a PlayStation 4 Grand Theft Auto V bundle, and an HD TV, respectively.
Although this casino turned two years older on April 3, it wants its community of players to experience more of this momentous event by extending its celebration until April 17.
There is almost a week left for gambling enthusiasts to make the most of this special promotion, so gamblers who wish to win these brand-new prizes must begin playing the said games.

Every 0.1 BTC wagered will earn the players a raffle ticket, which will be drawn on the last day of this promotion. There will be three draws for each game, which are guaranteed to be provably fair since they will be using the Bitcoin blockchain. Those who want to win the PlayStation 4 bundle should keep betting on the Bitcoin roulette game on Pocket Rockets Casino.
Other than the three major prizes, however, this casino is also giving away four runner-up prizes in each draw. The lucky winners of the consolation rewards will receive 0.05 BTC each.
High payout awaits dice enthusiasts
Other than the special promotion for its second-year anniversary, Pocket Rockets Casino is also proud of posting the highest payout in a Bitcoin dice game.
One of the online bettors on its dice game can become richer by over 200 BTC as its maximum payout registers 218 BTC as of writing. This means players have the chance to collect this much amount in just a single roll or bet.
Featuring fast rolls and automated betting, this dice game is one of the favorites among Bitcoin casino enthusiasts.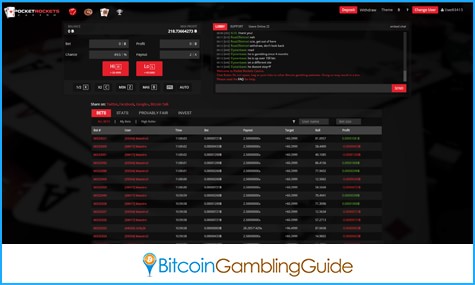 'More to come soon'
This gambling site is all set to further improve its status on the market just in time for its longer stay in the industry.
Back in January, it had a major update of the software it runs on, resulting in a smoother, more secure, and user-friendlier interface. Likewise, it added a Bitcoin roulette game for variety and more entertainment.
However, this is not the end as players can expect more games to be launched on the site, giving bettors more reasons to play and trust the crowdfunded website, which boasts 2822 BTC invested to date.
With such confidence and support from the online community of Bitcoin bettors, paired with the attractive Pocket Rockets Casino rewards, this gambling portal is off to claim more success in the future.