Launched around 10 months ago, PokerShibes is not a Bitcoin gambling website. It currently runs exclusively on Dogecoin, and it is an online poker platform that enables players across the globe to indulge in poker tourneys against avid players. I had the opportunity to speak with its representative and got to learn insightful views and details about the brand and Dogecoin gambling.
Bitcoin poker rooms are popular on the gambling scene. What makes PokerShibes different from other sites, especially Dogecoin gambling brands?
PokerShibes is the only place to play actual poker for Dogecoin on the internet.  We offer superior rake rates, better rewards rates, and higher referral bonuses than Seals With Clubs, the primary competition in the Bitcoin poker market.
PokerStars, the current industry-leader, charges rake rates far, far in excess of what it actually costs to run a high-end poker room.  The higher the rake is, the more difficult it is to be a winning player at the site.  PokerShibes is based on a foundation of low rake, high rewards, and a positive community.  We moderate the chat to ensure that the spirit of the Dogecoin community—helpful, positive, and generous—is maintained on our poker site, and it's my firm belief that PokerShibes is the friendliest site on the internet.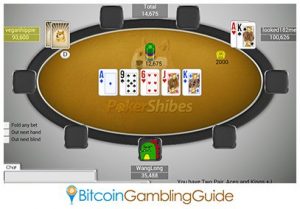 Who founded PokerShibes?
PokerShibes was founded by a team headed by a heavily-experienced internet poker professional, with over 10 years of poker as a sole income source, and a highly-skilled and motivated coder, intent on forming a better poker room.
Does it run on its own-made software, though?
Pokershibes is running off a highly-modified version of PokerMavens, the same as Seals with Clubs and most other crypto-based poker sites. It is currently available for web-based and mobile platforms.  We have plans to release a superior downloadable client in the future, as well as expansion to other altcoins, such as Peercoin or NXTcoin.
Dogecoin gambling is making its presence in the cryptocurrency gambling market. What can you say about using DOGE to wager on online games?
Dogecoin offers an interesting contrast to Bitcoin. Where Bitcoin mostly consists of investors attempting to invest in the coin to make long-term profit, Dogecoin is about so much more.  Dogecoin users tend to be more altruistic and giving, having sponsored many charitable donations and effected much positive change in the world already, in under a year of existence.
Dogecoin is ideal for gaming, from its lower value to its much, much faster transaction times.  It's much easier to understand playing for 100,000 dogecoin than it is playing for 0.1 Bitcoin—it's just the way the human brain functions.   At PokerShibes, we offer swift deposits and cashouts because the coin we're based on allows for faster transaction processing.  Your coins are always just a few clicks away. All cashouts are automated and instant; all deposits take around 10-20 minutes.
What are the challenges you face by operating this business?
The main issue is getting the word out, as the overarching Dogecoin community doesn't support gambling as such.  With our industry-leading referral system, where referrers receive between 5% and 20% of the total rake they refer weekly for life, as well as deposit bonuses on the close horizon, I anticipate continued growth, though.
PokerShibes exclusively runs on a cryptocoin. How do you view the effect cryptocurrency will have on your lives?
The advent of cryptocurrency has allowed the return of exchange of goods and services between actual people without having to pay banks or payment processors percentages of the sales.  This allows people to charge less for the same service.  Cryptocurrency will eliminate or greatly reduce the presence of middlemen in the global marketplace, allowing for a worldwide reduction in price for most goods.
Cryptocurrency is also ideal for microtransactions and microfinance, especially Dogecoin. It allows content creators such as webcomics artists, musicians, and writers to receive actual crowd-funded compensation for their artistic creations without having to go through publishing houses or recording studios.  Harnessed correctly, this will allow more artists more sustainable access to the audiences they intend to reach, resulting in more creative content for the world as a whole to consume.
When it becomes incredibly simple to send your favorite artist $5 in cryptocurrency for their new album, more people will do it.  When people realize that the artist gets to keep 100% of the proceeds, instead of the 10%-15% they currently receive, we anticipate that the transition is inevitable.
How do you plan to improve your online gambling services?
We'll be rolling out high-end deposit bonuses, additional player management tools, and the first steps towards a homegrown client. Beyond 2014, we will roll out an improved player client, alternative game types, and many other features, as we strive to make PokerShibes the leader in the cryptocurrency poker industry.
What are other details you want to share with the online gambling community?
We run freerolls for all players every two hours and higher-value freerolls for higher-tier rewards members on a regular basis.  We have a regular and building schedule of guaranteed tournaments on Saturday and Sunday, awarding over Ð 3,000,000 in guarantees every weekend.  As the site grows, the guarantees will grow.
Thank you very much for this opportunity!