PokerStars is changing the rules of poker with the introduction of Power Up. PokerStars Power Up allows players to perform different abilities at certain points in a round of poker.
Power Up is a way of restructuring the basic Texas Hold'em game to become the ultimate game of skill. The 'power' cards that give players abilities act like spell cards in most trading card games. This game will be a sure hit among millennial players who prefer skill games in casinos.
Séverin Rasset, Director of Poker Innovation and Operations at PokerStars, said:
"It's a combination of traditional enjoyable No Limit Hold'em injected with powers that give players the ability to influence how hands play out and change up game play in a variety of ways with boards, cards and chips."
There is also a good chance that an eSports community could grow around Power Up. It has a trading card game element to it like Hearthstone. In case Power Up makes it big in eSports, Bitcoin eSports betting sites may even cover these matches and provide high odds.
Power Up basic
PokerStars Power Up uses the base rule of Texas Hold'em in the game. The added feature is the power cards, which are in a separate hand from a player's hole cards. Power cards can give players an edge during a round. Below are some notable cards: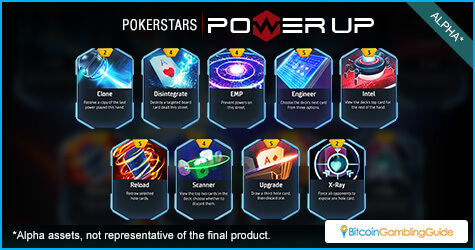 Reload "Redraw selected hole cards"
Let a player change one or two of his hole cards to new ones.
EMP – "Prevent powers on this street"
Stop players from using any power cards during the current round. This card might become an interrupt or trap card that activates when any player uses another power card.
Disintegrate – "Destroy a targeted board card dealt this street"
The power card can remove any community card during the round. This card might only leave players with only four or three community cards to pay within one round.
X-ray – "Force all opponents to expose one hole card"
This is a very powerful power card if a player uses it in combination with Disintegrate.
Power Up shares some similarities with HoldemX by Alex Dreyfus. HoldemX also has xCards that allow players to perform unique actions throughout the game.
State of Power Up
This game from PokerStars is currently in its alpha stage. Since it is in close alpha, only a select group of players in the US can play it.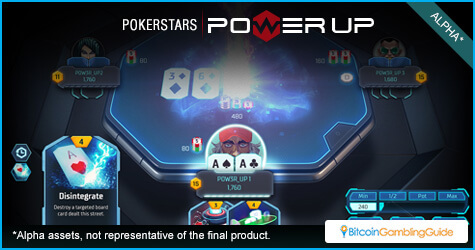 Rasset added:
"This project introduces a lot of new features to poker that we have built from scratch, and it's taken a lot of time and effort to get to this stage in the game's life. We balanced the game for six months in a sandbox environment with a group of very high volume experienced poker players and gamers to attempt to break the game in every possible way."
The power cards in the official screenshot of the game may not be the final number of cards during the beta stage or release version of the game. There might also be some changes to the rules after the alpha stage. Power Up has a good foundation to build on. The developers spent a long time with testing the game.
Power Up is the latest gaming solution up the sleeves of PokerStars, and it could be another reason for PokerStars to get acknowledged by award-giving bodies.