The dust has settled and the winners have been decided. It will be Portugal and France fighting it out this Sunday at Saint Denis. France has always been a strong favorite and Portugal has a powerhouse team with Ronaldo as its star.
This Sunday's match will be a clash of the titans as the French and the Portuguese match their skills against each other. It was not an easy ride for both teams as they faced off against tough opponents in the semifinals.
Semifinal roundup
Portuguese had to go up against Wales this Thursday. Portugal won but they also had an advantage; Wales was missing two key team members because of suspensions. They also happened to have very superb player. There was Ronaldo, but other players like Nani and Jose Fonte were also on the team, making it not all about a single power-house player.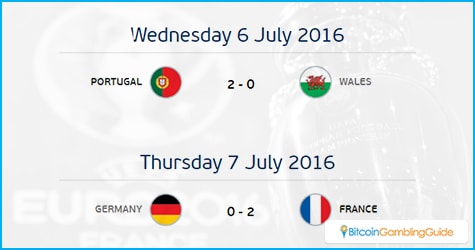 The decider of the game was the fact that it seemed Ronaldo finally managed to wake up. Criticized for his performance for much of the tournament, the superstar seemed to try and make up for lost time. His efforts resulted in one goal to the Portuguese win and his assist managed to help his team land another one. Wales managed to put up a good fight but with Ronaldo firing on all cylinders and the team missing members, they eventually got beaten 2-0.
France and Germany went up against each other this Friday and France managed to snag a win from their tough opponents. Watching the match, spectators could feel the tension in the air as the German team managed to dominate the entire first half. Unfortunately for them the domination did not include scoring goals.
The French managed to recover. Antoine Griezmann scored a penalty kick in the first half and then delivered a finishing goal in the second half. This seemed to frazzle the German team, resulting in France getting more freedom in the second half. It ended with a victorious French team at 2-0.
The final matchup
It is going to be fascinating to watch the UEFA 2016 finals. The French have been consistent favorites in the UEFA European Championship and they have managed to prove themselves by consistently giving strong performances. In all their matches, there has never been a doubt about the win as they end all of their games with a strong lead.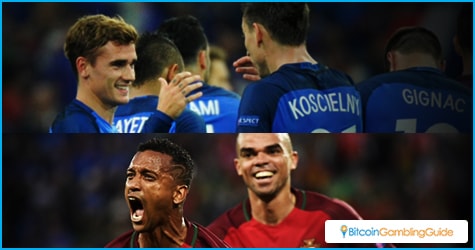 Portugal has not been as fortunate, though. Several times, the Portuguese team has had to decide matches on penalty kicks. This has made them the underdog in this matchup, although they are still a powerful team to play against.
The odds reflect this. Sportsbooks like Nitrogen Sports and BetBaller have already posted the odds for Sunday's match. France's odds are consistent at making them favorites, but BetBaller has them at 2.03 compared to the usual 1.4. Portuguese odds range from 2.8 to 4.69, which can net a lucky bettor a big payday if Ronaldo and his fellows managed to win.
This Sunday's clash is sure to be exciting as France tries to get its third title while Portugal wants to finally win one.